Backup school: Lesson one
Are you new to storage and backup? Lesson one of SearchStorage.com's "Backup School" explains the fundamentals of backup, the components of a backup and what kinds of backups are out there. Professor Dorian Cougias also explains full backups, incremental backups and which of these choices may be the best fit into your environment.
Backup School: Lesson 1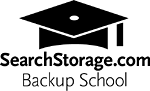 ---
Backup is the essential function of any storage manager's day. It's also the cause of most concern. In lesson one...
Continue Reading This Article
Enjoy this article as well as all of our content, including E-Guides, news, tips and more.

By submitting your personal information, you agree that TechTarget and its partners may contact you regarding relevant content, products and special offers.

You also agree that your personal information may be transferred and processed in the United States, and that you have read and agree to the Terms of Use and the Privacy Policy.

of "Backup School" Dorian Cougias explains the backup basics.

Back to the Backup School table of contents.

More about "Lesson 1: What's a backup?"

Are you new to storage and backup? Lesson one of SearchStorage.com's "Backup School" explains the fundamentals of backup, the components of a backup and what kinds of backups are out there. Professor Dorian Cougias also explains full backups, incremental backups and which of these choices may be the best fit into your environment.

What you'll walk away with:
** How to think about backup process
** Easy to understand explanations of:
-- Full backups
-- Incremental backups
-- Differential Backups
** Which method is right for you, and why
** The ability to ask Dorian your specific backup questions


Please join Dorian Cougias for this webcast right now. Also, follow along with class with this worksheet.

About Dorian Cougias:
Dorian Cougias is the founder and CEO of Network Frontiers, a company that focuses on disaster recovery, security, and IT infrastructure consulting, training, and books. His latest work is "The Backup Book: Disaster Recovery from Desktop to Data Center 3rd Ed."

Don't miss this event. Make sure to view it today.

Back to the Backup School table of contents.

"What is a backup?"
Dig Deeper on Storage management tools
PRO+
Content
Find more PRO+ content and other member only offers, here.