Software-defined storage: Making sense of the data storage technology
Learn what software-defined storage is, where it's headed and tips for working with the technology.
Introduction
Software-defined storage, also sometimes referred to as a storage hypervisor, is a term vendors began labeling their products with over the past year or so. The name was derived from the software-defined data center and has certainly gained popularity among storage vendors. Because vendors don't all have the same idea of what software-defined storage is, the functions of the products can vary.
Though the products may have different features, experts agree that all software-defined storage products are software that abstract storage management from the physical devices so that IT professionals have better control of storage features. Software-defined storage has been compared to storage virtualization because it can help IT pros use their storage more efficiently while not limiting them to a single storage vendor or platform.
This guide was built to help you understand what a software-defined storage product can do for your data center, even as the concept continues to evolve. Below you'll find discussions on the technology from storage experts, predictions as to where software-defined storage might be in the future, as well as specific examples of how it can be used in any given environment.
1

Overview

-
What is software-defined storage?
Software-defined storage can improve storage management in most environments, but the definition isn't absolute. In the links below, experts give their take on what software-defined storage does, some of its benefits and how to best use it.
2

Roadmap

-
Examining software-defined storage's past, future
The hype around software-defined storage technologies caught on fast as more and more vendors began using the term to describe their products. But does that hype mean software-defined storage is the future of the data center, or will the hype die down? The following articles provide insight from analysts as to why software-defined storage has been so popular, and what impact the technology may have on storage environments in the coming years.

Download this free guide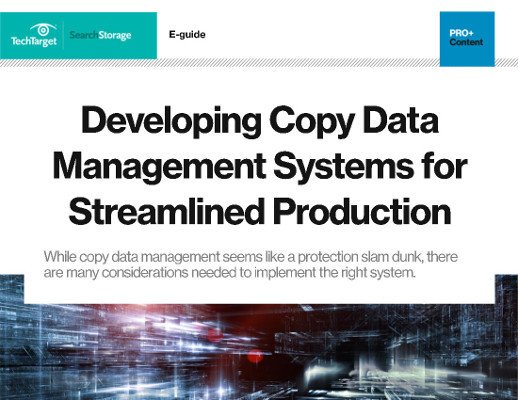 Copy management: Flexible framework amid solution fluctuations
While the honeymoon for standalone CDM appliances isn't over, many vendors also offer built-in CDM functionality. Download our guide for an examination of the CDM market, which vendors to keep your eye on (i.e. Actifio, Commvault, Catalogic, etc.), and a framework for establishing lasting copy management—no matter how the solutions for doing so fluctuate.
By submitting your personal information, you agree that TechTarget and its partners may contact you regarding relevant content, products and special offers.
You also agree that your personal information may be transferred and processed in the United States, and that you have read and agree to the Terms of Use and the Privacy Policy.
3

Use cases

-
Software-defined storage in action
As with any technology that gains a fair amount of attention, it's important to know how you can implement it to get the best results. The improved management ability that software-defined storage brings means it can be used to enhance cloud storage environments, data protection capabilities and more. The following content offers specific ways software-defined storage can be implemented to enhance several types of data centers.
4

Expert video

-
Toigo on software-defined storage use
When an environment is based on storage from different vendors, managing them separately makes it difficult to achieve their fullest potential capacity and performance. Software-defined storage can help with that, according to expert Jon Toigo, and can bring additional benefits as a result. Take a look at the following video to learn how software-defined storage can help with disaster recovery.
Video
In this video, Jon Toigo says using software-defined storage can improve the management of storage environments and make them resistant to disruption.