Evaluate
Weigh the pros and cons of technologies, products and projects you are considering.
Data storage systems: 2013 Storage Products of the Year finalists
For the eleventh year, Storage magazine and SearchStorage.com will select the best new or enhanced data storage systems of the year. The following 52 products are in the running for our 2013 Products of the Year awards.
Introduction
For the eleventh consecutive year, Storage magazine and SearchStorage.com will be selecting the best new or enhanced enterprise data storage systems of the year. Of the many entries submitted by both traditional and startup storage vendors, we've narrowed the field to these 52 finalists.
Our panel of judges -- analysts, consultants, users and other industry experts -- will work with the TechTarget Storage Media Group's team of editors and reporters to select Gold, Silver and Bronze winners in each of six categories. The results will be published in the February issue of Storage magazine and online.
Over the last couple of years, the storage world has been shaken up by a combination of new technologies that have matured sufficiently to have an impact on enterprise environments, and by upstart companies that are challenging some of the traditional methods and processes of delivering storage to data center applications.
Solid-state storage in its many forms, cloud storage, object-based systems and hypervisor-based storage controllers are all doing their part to help bring about revolutionary change to storage infrastructures. And the companies and products that are at the vanguard of the new wave of storage technologies are well represented by the 52 finalists described here.
And as we've seen year after year, our list of finalists reads like a mix of who's who in storage and a roster of upcoming insurgents. But it's just that kind of potent blending of old and new that ensures a wide variety of storage products appropriate for nearly any environment will always be available and evolving.
So, take a look at the data storage systems that have already demonstrated their innovation and value, and are poised to help storage keep pace with today's rapidly changing data center environments.
1

Backup Software

-
Backup and DR software and services Products of the Year finalists
Products eligible for consideration in the backup and disaster recovery (DR) software category include backup and recovery software, cloud backup and recovery services, DR, snapshot and replication, electronic vaulting and data archivers.
Feature
Learn more about the nine finalists in the backup and disaster recovery software and services category. Continue Reading
2

Backup Hardware

-
Backup hardware Products of the Year finalists
Products eligible for consideration in the backup hardware category include tape libraries and drives, backup media, disk backup targets, virtual tape libraries, deduplication devices and gateway appliances for cloud backup.
Feature
The eight finalists in the data backup hardware category represent a wide range of data protection products. Continue Reading

Download this free guide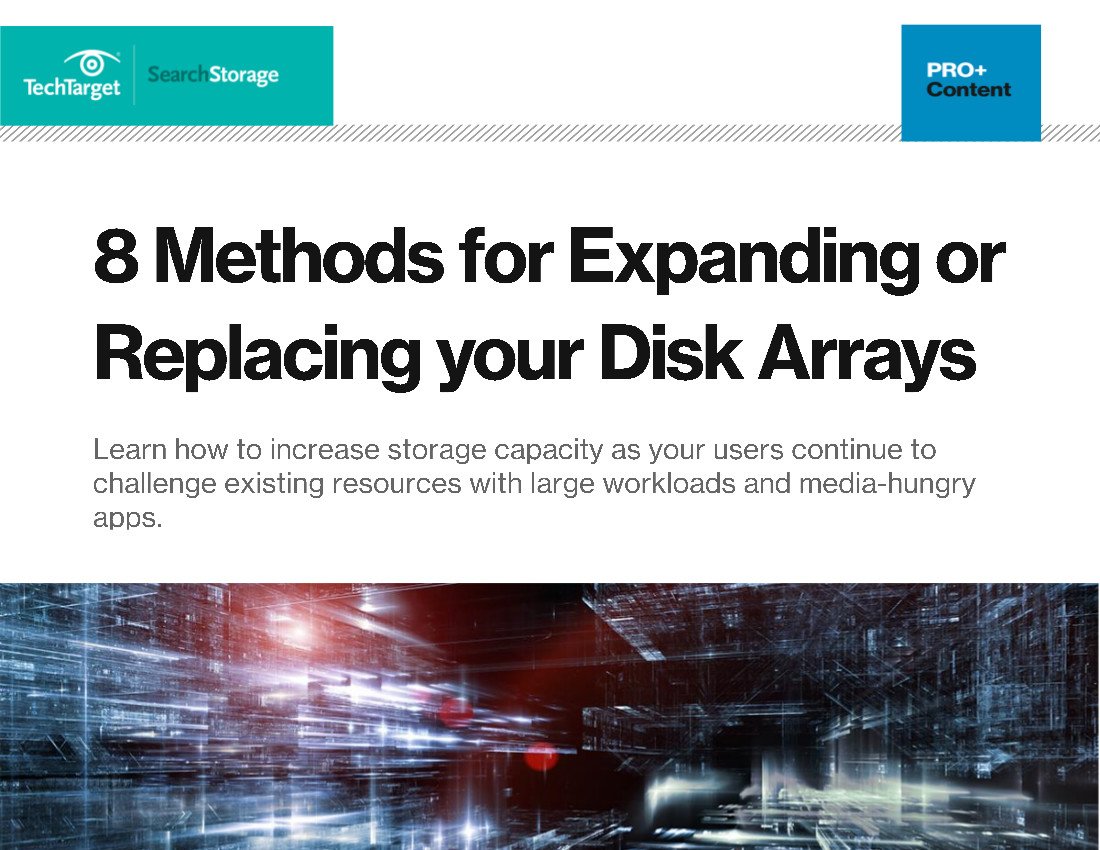 8 Steps to Expanding and Replacing Your Disk Arrays
Regardless of how high performing your storage array or how well you manage your data, every system comes to a breaking point. Whether it's long app loading times, or realizing after a disaster that your data isn't quite as available as you thought, when you reach that point, you'll need to be ready to expand or replace your existing disk array. In this guide, learn 8 things to take into consideration for when that time comes; it could be closer than you think.
By submitting your personal information, you agree that TechTarget and its partners may contact you regarding relevant content, products and special offers.
You also agree that your personal information may be transferred and processed in the United States, and that you have read and agree to the Terms of Use and the Privacy Policy.
3

Storage Infrastructure

-
Storage infrastructure Products of the Year finalists
The storage infrastructure category was open to switches, host bus adapters, network interface cards, security devices, converged network adapters, virtual networking and I/O products, and WAN-optimization products.
Feature
There are four strong data storage infrastructure finalist products; however, only one award will be given in the category this year. Continue Reading
4

Storage Management Tools

-
Storage management tools Products of the Year finalists
The storage management category includes products that can handle storage resource management, performance monitoring, capacity planning and provisioning.
Feature
Many of the entries in the storage management tool category offer extended support and monitoring capabilities for both physical and virtual environments -- find out which seven products made our list. Continue Reading
5

Storage System Software

-
Storage system software Products of the Year finalists
The storage system software category spans a wide range of technologies, including flash-based caching, storage virtualization, software-defined storage, cloud storage and performance optimization.
Feature
Read more about the 12 finalists in the enterprise storage system software category. Continue Reading
6

Storage Systems

-
Storage systems Products of the Year finalists
The data storage systems category has a variety of products, including Fibre Channel/iSCSI SAN, network-attached storage and multiprotocol systems, DAS, hard disk drives, solid-state storage, disk controllers, caching appliances, storage virtualization appliances and cloud gateway appliances.
Feature
This category features 12 finalists -- see which ones made the cut. Continue Reading