virtual provisioning
Virtual provisioning is a term used by vendors, such as EMC, to describe a process of efficiently provisioning space in storage area networks (SAN). (Continued...)
Looking for something else?
Virtual provisioning is a strategy for efficiently managing space in a storage area network (SAN) by allocating physical storage on an "as needed" basis. This strategy is also called thin provisioning.
2015 Planning: The Top 10 Data Storage Definitions You Need To Know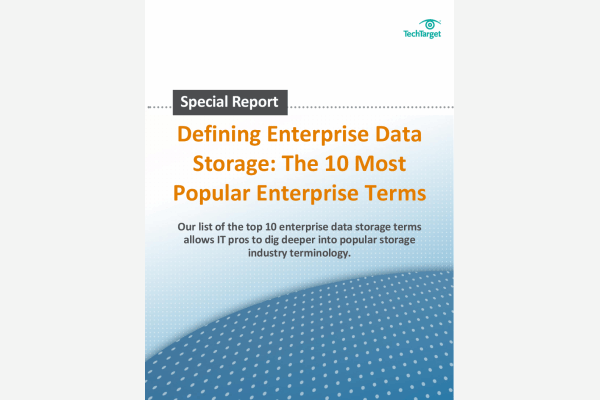 Whether you're a seasoned IT expert or a relative newcomer, the jargon surrounding data storage technologies can be overwhelming. Before you finalize your 2015 planning, refer to this Special Report to find out the top 10 most important storage terms you need to know today.
By submitting your personal information, you agree to receive emails regarding relevant products and special offers from TechTarget and its partners. You also agree that your personal information may be transferred and processed in the United States, and that you have read and agree to the Terms of Use and the Privacy Policy.

Virtual provisioning is designed to simplify storage administration by allowing storage administrators to meet requests for capacity on-demand. Virtual provisioning gives a host, application or file system the illusion that it has more storage than is physically provided. Physical storage is allocated only when the data is written, rather than when the application is initially configured.
Virtual provisioning can reduce power and cooling costs by cutting down on the amount of idle storage devices in the array. As a result, virtual provisioning has become a part of green computing and green data center initiatives. The caveat for virtual provisioning is that it requires administrators to carefully monitor the usage of virtually provisioned resources to ensure that no virtual disks become full, resulting in storage errors for mission-critical applications.
Continue Reading About virtual provisioning
PRO+
Content
Find more PRO+ content and other member only offers, here.