Definition
virtual memory
Virtual memory is a feature of an operating system (OS) that allows a computer to compensate for shortages of physical memory by temporarily transferring pages of data from random access memory (RAM) to disk storage.
Download: Getting Started with Cache Memory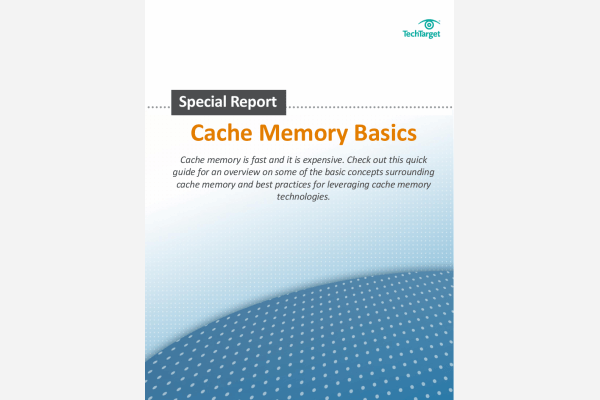 Eager to improve storage performance, many were quick to consider cache memory - but just as quickly find it to be challenging to implement and expensive. Check out this quick guide for an overview on some of the basic concepts surrounding cache memory and best practices for leveraging cache memory technologies.
By submitting your email address, you agree to receive emails regarding relevant topic offers from TechTarget and its partners. You can withdraw your consent at any time. Contact TechTarget at 275 Grove Street, Newton, MA.
You also agree that your personal information may be transferred and processed in the United States, and that you have read and agree to the Terms of Use and the Privacy Policy.

Eventually, the OS will need to retrieve the data that was moved to temporarily to disk storage -- but remember, the only reason the OS moved pages of data from RAM to disk storage to begin with was because it was running out of RAM. To solve the problem, the operating system will need to move other pages to hard disk so it has room to bring back the pages it needs right away from temporary disk storage. This process is known as paging or swapping and the temporary storage space on the hard disk is called a pagefile or a swap file.
Swapping, which happens so quickly that the end user doesn't know it's happening, is carried out by the computer's memory manager unit (MMU). The memory manager unit may use one of several algorithms to choose which page should be swapped out, including Least Recently Used (LRU), Least Frequently Used (LFU) or Most Recently Used (MRU).
In this video tutorial, Mike Callahan explains how virtual memory works in the Windows 7 operating system.

In a virtualized computing environment, administrators can use virtual memory management techniques to allocate additional memory to a virtual machine (VM) that has run out of resources. Such virtualization management tactics can improve VM performance and management flexibility.
See also: transparent page sharing, memory ballooning
This was first published in
August 2014
Continue Reading About virtual memory
Dig Deeper on Data management tools
PRO+
Content
Find more PRO+ content and other member only offers, here.