Definition
solid-state storage
Solid-state storage (SSS) is a type of computer storage media made from silicon microchips. SSS stores data electronically instead of magnetically, as spinning hard disk drives (HDDs) or magnetic oxide tape do.
Solid-state storage can be found in three form factors: solid-state drives (SSD), solid-state cards (SSC) and solid-state modules (SSM). An important advantage of solid-state storage is that it contains no mechanical parts, allowing data transfer to and from storage media to take place at a much higher speed and providing a more predictable lifespan for the storage media. Because there are no moving parts, SSDs produce far less heat than HDDs.
In addition to providing faster and more consistent input/output (I/O) times, solid-state storage media offers the same levels of data integrity and endurance as other electronic devices, and requires less power and cooling than its electromechanical equivalents. It also generally weighs less.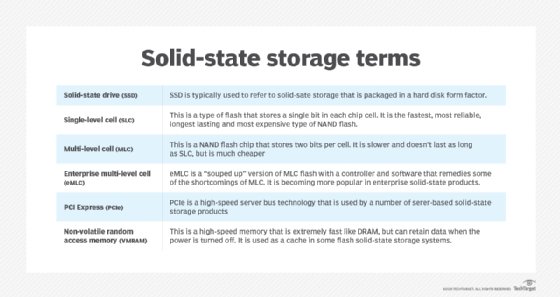 Continue Reading About solid-state storage
Dig Deeper on Solid-state storage
PRO+
Content
Find more PRO+ content and other member only offers, here.