A petabyte (PB) is a measure of memory or data storage capacity that is equal to 2 to the 50th power of bytes. There are 1,024 terabytes in a petabyte and approximately 1,024 PBs make up one exabyte.

Download this free guide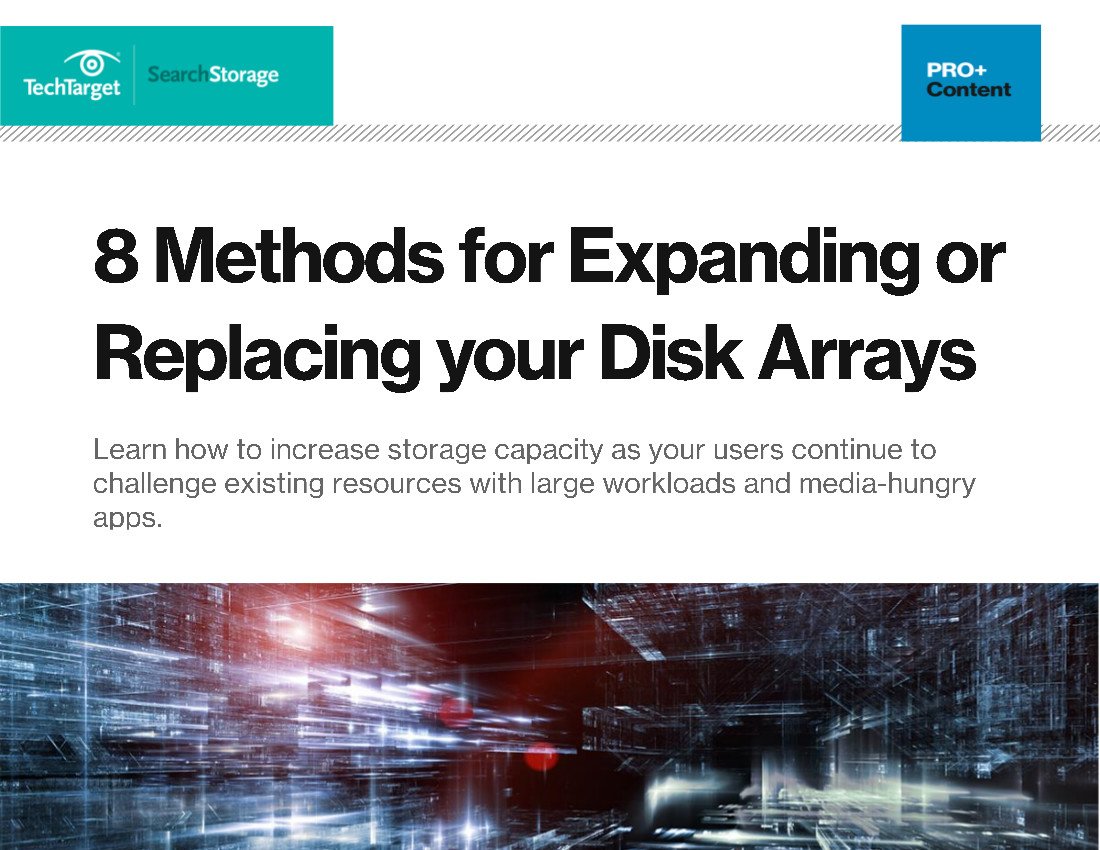 8 Steps to Expanding and Replacing Your Disk Arrays
Regardless of how high performing your storage array or how well you manage your data, every system comes to a breaking point. Whether it's long app loading times, or realizing after a disaster that your data isn't quite as available as you thought, when you reach that point, you'll need to be ready to expand or replace your existing disk array. In this guide, learn 8 things to take into consideration for when that time comes; it could be closer than you think.
By submitting your personal information, you agree that TechTarget and its partners may contact you regarding relevant content, products and special offers.
You also agree that your personal information may be transferred and processed in the United States, and that you have read and agree to the Terms of Use and the Privacy Policy.
Petabyte storage vendors
Barely a decade ago, data storage vendors would boast of selling an aggregate of a petabyte or two in all of their storage systems sold. Due to the continued rapid increase in storage capacity requirements, it's now common to see individual companies and even single storage systems with more than a PB of storage capacity.
In 2015, Fujitsu released its Eternus DX S3 block storage devices, which can scale from 4.6 PB to 13.8 PB of raw capacity. The HGST Active Archive System, released in 2015, scales to 4.7 PB of raw data. DataDirect Networks released EXAScaler storage arrays with up to 14 PB of capacity across two racks. And the latest EMC Isilon network attached storage (NAS) arrays can scale up to 50 PB.
Petabyte storage and backups
Petabytes are not suited to traditional backups, which have to scan the entire system every time a backup or archiving job occurs. Traditional NAS is scalable and capable of handling petabytes of data, but it can take too much time and use too many resources when going through the system's organized storage index. However, there are a number of other data storage technologies that can back up and archive at a petabyte scale:
Petabytes and big data
There is no specific quantity of data that qualifies as big data, but the term often refers to information in the petabyte, or even exabyte, range. Mining for information across petabytes of data is a time-consuming task. Organizations working with big data often use the Hadoop Distributed File System because it facilitates rapid data transfer and allows a system to operate uninterrupted while working with petabytes of data.
Also see petaflop.
Continue Reading About petabyte (PB)
Dig Deeper on Storage management and analytics
PRO+
Content
Find more PRO+ content and other member only offers, here.