What is network-attached storage (NAS)?
Learn what network-attached storage is and how it provides file-based data storage services to other devices on a network through a standard Ethernet connection.
Looking for something else?
Network-attached storage (NAS) is a type of dedicated file storage device that provides local-area network (LAN) users with centralized, consolidated disk storage through a standard Ethernet connection.
SAN Basics: Fibre Channel vs. iSCSI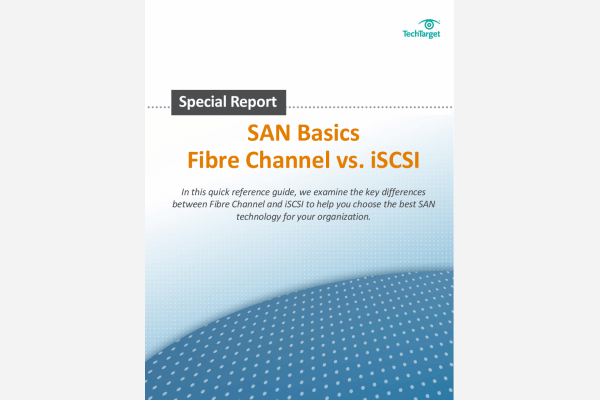 In this quick reference guide, the team at SearchStorage.com examine the key differences between Fibre Channel and iSCSI to help you choose the best SAN technology for your organization.
By submitting you agree to receive email communications from TechTarget and its partners. Privacy Policy Terms of Use.

NAS devices, which typically do not have a keyboard or display, are configured and managed with a Web-based utility program. They reside on the LAN as independent network devices, and each one has its own IP address.

Netgear is just one of several popular NAS vendors.
The primary advantage of network-attached storage is that it doesn't limit storage capacity to a single computing device. Multiple NAS appliances can be attached to the network for storage expansion and many NAS products can hold enough disks to support RAID, a storage technology that turns multiple hard disks into one logical unit in order to provide data redundancy, high availability and improved performance times.
Some NAS devices run a standard operating system (OS) such as Microsoft Windows, while others may run the vendor's proprietary operating system. Although the Internet Protocol (IP) is the most common data transport protocol, some NAS products may support the Network File System (NFS), Internetwork Packet Exchange (IPX), NetBIOS Extended User Interface (NetBEUI) or Common Internet File System (CIFS) protocols. High-end NAS products may also support Gigabit Ethernet (GigE) for even faster data transfer across the network.
Development and evolution of NAS
NAS has evolved to be a low-cost, turnkey storage solution for small business and home networks. Adoption of the technology can be traced to small and medium-sized businesses (SMBs) during the early 2000s who needed to provide end users with reliable and fast file serving across multiple platforms but did not have the personnel or budget to support a storage area network (SAN).
Over time, the baseline functionality of NAS devices has broadened to support virtualization. More high-end NAS products may also support data deduplication, flash storage, multiprotocol access, NAS gateways and replication.
NAS pros and cons
NAS remains a popular storage option with SMBs and home users, largely due to its ease of deployment and ability to support multiple file systems. An important benefit of NAS is its ability to provide multiple clients on the network with access to the same files, which makes collaborating and sharing documents, spreadsheets, photos and video quite easy and very convenient. The biggest drawback of NAS is its inability to move very large blocks of contiguous data quickly.
The chart below describes the five basic approaches to deploying NAS. They include NAS gateways for large enterprises, integrated NAS for SMBs, clustered NAS and parallel file systems for large computing environments, and NAS aggregators for heterogeneous storage.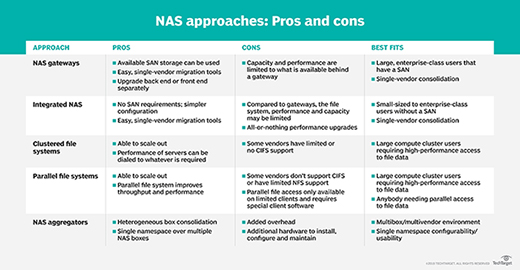 NAS product categories
NAS devices are grouped in three broad categories based on the number of drives, drive support, drive capacity and scalability.
High-end or enterprise NAS: This is the high end of the market, driven by the need to store huge amounts of files, including virtual machine (VM) images, as well as the need for rapid access and NAS clustering.
Midmarket NAS: This end of the market can run to capacities of several hundred terabytes. Midmarket NAS devices cannot be clustered, which leads to file-system siloes if multiple NAS devices are required.
Low-end or desktop NAS: This is the low end of the market aimed at small businesses and home users that require local shared storage. Increasingly, this market is shifting toward a cloud NAS model.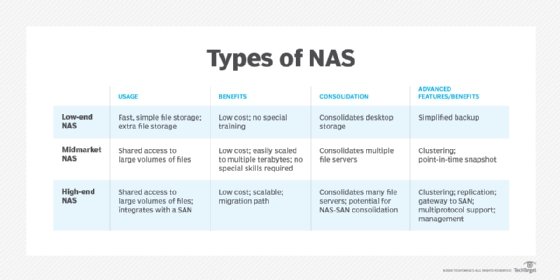 NAS vs. DAS
Direct-attached storage (DAS) is non-networked storage located on a dedicated server or computing device. In order to access files stored on direct-attached storage, the end user must have physical access to the device where the files are stored.
DAS requires that the storage on each device be managed separately, complicating the way files are managed and shared in a networked environment. In some cases, however, DAS may provide end users with better performance than NAS, especially for compute-intensive multi-media software programs.
NAS vs. SAN
The key distinction between NAS and SANs is that NAS handles I/O requests for individual files, whereas a SAN manages I/O requests for blocks of contiguous data. SANs can be Ethernet-based, but most often use a Fibre Channel protocol that was developed specifically for storage networks. From a server application and OS perspective, however, a NAS device behaves similarly to a SAN device in how it accesses data.
Traditional NAS vs. scale-out NAS
In a traditional NAS deployment, the head provides access to back-end storage through an Internet connection. (A NAS head, also called a NAS gateway, is the hardware that performs the NAS control functions.) Expanding NAS connectivity requires users to install larger heads and additional hard disks to boost storage capacity. Clustered NAS systems have emerged to tame NAS sprawl by aggregating a large number of front-end NAS nodes and back-end storage pools that can scale to the petabyte range.
NAS use cases
The need to increase file storage capacity is fueling the purchase of NAS systems. Prior to network-attached systems, enterprises typically had hundreds or even thousands of discrete file servers that had to be separately configured and maintained. Today, most NAS appliances can simply be outfitted with larger disks to boost storage capacity.
In the enterprise, NAS arrays often are used as backup targets for archiving, disaster recovery and redundant storage. Other use cases include the need to consolidate large numbers of discrete file servers, reduce licensing and maintenance costs and provide storage managers with increased flexibility.
Continue Reading About What is network-attached storage (NAS)?
Dig deeper on NAS management