near-line storage
Near-line storage is the on-site storage of data on removable media.
Looking for something else?
TECHNOLOGIES
Near-line storage is the on-site storage of data on removable media. The removable storage idea dates back to the mainframe computer and, in the age of the smaller computer, remains popular among individuals, small businesses, and the large enterprise.
2015 Planning: The Top 10 Data Storage Definitions You Need To Know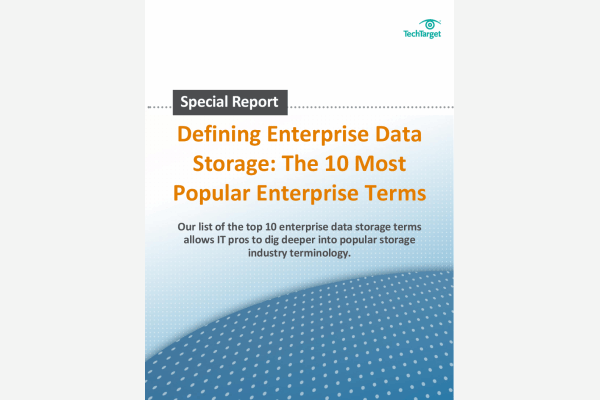 Whether you're a seasoned IT expert or a relative newcomer, the jargon surrounding data storage technologies can be overwhelming. Before you finalize your 2015 planning, refer to this Special Report to find out the top 10 most important storage terms you need to know today.
By submitting your personal information, you agree to receive emails regarding relevant products and special offers from TechTarget and its partners. You also agree that your personal information may be transferred and processed in the United States, and that you have read and agree to the Terms of Use and the Privacy Policy.

There are three major categories of near-line storage: magnetic disk, magnetic tape, and compact disc (CD). Magnetic disks include 3.5-inch diskettes, and various removable media such as the Iomega ZIP disk and the Syquest disk. Tapes are available in almost limitless variety. Examples of media in the CD category are CD recordable (CD-R), CD rewriteable (CD-RW), and digital versatile disc rewriteable (DVD-RW).
Near-line storage provides inexpensive, reliable, and unlimited data backup and archiving with somewhat less accessability than with integrated online storage. For individuals and small companies, it can be an ideal solution if the user is willing to tolerate some time delay when storing or retrieving data. Near-line storage media, when on the shelf, are immune to infection by online viruses, Trojan horses, and worms because the media are physically disconnected from networks, computers, servers, and the Internet. When a near-line storage medium is being employed to recover data, it can be write-protected to prevent infection. If an infected computer is used to write data onto a near-line storage disk, tape, or CD, the medium may also become infected. It is suggested that near-line storage media always be scanned with an anti-virus program before use.
Advantages of online storage over near-line storage include near-zero access delay, simultaneous availability to a large number of users, and ease of centralized management.
Continue Reading About near-line storage
PRO+
Content
Find more PRO+ content and other member only offers, here.