Essential Guide
LUN storage: Working with a SAN's logical unit numbers
A comprehensive collection of articles, videos and more, hand-picked by our editors
logical unit number (LUN)
A logical unit number (LUN) is a unique identifier used to differentiate separate devices (each of which is a logical unit) as addressed by a SCSI, iSCSI or Fibre Channel (FC) protocol.
FROM THE ESSENTIAL GUIDE:
A logical unit number (LUN) is a unique identifier used to designate individual or collections of hard disk devices for address by a protocol associated with a SCSI, iSCSI, Fibre Channel (FC) or similar interface. LUNs are central to the management of block storage arrays shared over a storage area network (SAN).
2015 Planning: The Top 10 Data Storage Definitions You Need To Know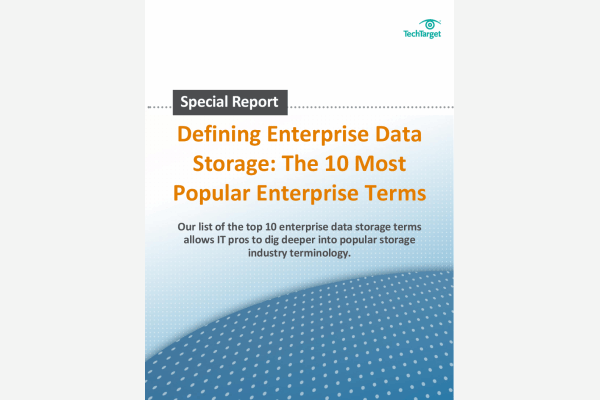 Whether you're a seasoned IT expert or a relative newcomer, the jargon surrounding data storage technologies can be overwhelming. Before you finalize your 2015 planning, refer to this Special Report to find out the top 10 most important storage terms you need to know today.
By submitting your personal information, you agree to receive emails regarding relevant products and special offers from TechTarget and its partners. You also agree that your personal information may be transferred and processed in the United States, and that you have read and agree to the Terms of Use and the Privacy Policy.

The term LUN dates back to the early days of SCSI when each device was identified by a logical number, up to eight in those days. Now servers with a dozen or more LUNs are common and it's getting less common for them to be connected to a conventional internal SCSI disk array. However, the basic element of storage for the server is still referred to as the LUN.
Each LUN identifies a specific logical unit, which may be a part of a hard disk drive, an entire hard disk or several hard disks in a storage device. So a LUN could reference an entire RAID set, a single disk or partition, or multiple hard disks or partitions. In any case, the logical unit is treated as if it is a single device and is identified by the LUN.
Here's how LUNs work with SCSI:
A SCSI (Small System Computer Interface) is a parallel interface that can have up to eight devices all attached through a single cable; the cable and the host (computer) adapter make up the SCSI bus. The bus allows the interchange of information between devices independently of the host. In the SCSI program, each device is assigned a unique number, which is either a number between 0 and 7 for an 8-bit (narrow) bus, or between 8 and 16 for a 16-bit (wide) bus. The devices that request input/output (I/O) operations are initiators and the devices that perform these operations are targets. Each target has the capacity to connect up to eight additional devices through its own controller; these devices are the logical units, each of which is assigned a unique number for identification to the SCSI controller for command processing.
In LUN zoning, SAN fabric is configured to match LUNs to the proper servers. As a rule, end devices such as hosts can only see and access storage within their zone. Limiting access in this way improves security and allows bandwidth allocation through assigning particular ports to a zone.
LUN masking is a further constraint added to zoning, subdividing access to the port so that only LUNs authorized to access a specific server can access the corresponding port. Then, even if several LUNs are accessed through the same port, the server masks can be set to limit each server's access to the appropriate LUNs. LUN masking is typically conducted at the host bus adapter (HBA) or switch level.
Note: The logical unit described above is different from the logical unit of IBM's Systems Network Architecture (SNA).
Continue Reading About logical unit number (LUN)
PRO+
Content
Find more PRO+ content and other member only offers, here.