iSCSI (Internet Small Computer System Interface)
Definition: Learn what iSCSI is, how the protocol is used in iSCSI SANs and why it's important for virtualization.
Looking for something else?
iSCSI is a transport layer protocol that describes how Small Computer System Interface (SCSI) packets should be transported over a TCP/IP network.
ISCSI, which stands for Internet Small Computer System Interface, works on top of the Transport Control Protocol (TCP) and allows the SCSI command to be sent end-to-end over local area networks (LANs), wide area networks (WANs) or the Internet. iSCSI was developed by the Internet Engineering Task Force (IETF) and is defined in RFP 3720. iSCSI is one of two main approaches to storage data transmission over Internet Protocol (IP) networks; the other method is Fibre Channel over IP (FCIP), also known as Fibre Channel tunneling.
The iSCSI protocol, which was ratified in 2003, was a key component for bringing about rapid development of the storage area network (SAN) market. A Fibre Channel SAN could transmit data over an IP network, but the Fibre Channel technology was very expensive and required a specialized skill base to install and configure properly. An iSCSI SAN, on the other hand, could be implemented with ordinary Ethernet network interface cards (NICs) and switches and run on an existing network.The appeal of iSCSI is easy to understand. Instead of learning, building and managing two networks -- an Ethernet LAN for user communication and a Fibre Channel San for storage -- an organization could use its existing knowledge and infrastructure for both LANs and SANs.
How ISCSI works
iSCSI works by transporting block-level data between an iSCSI initiator on a server and an iSCSI target on a storage device. The iSCSI protocol encapsulates SCSI commands and assembles the data in packets for the TCP/IP layer. Packets are sent over the network using a point-to-point connection. Upon arrival, the iSCSI protocol disassembles the packets, separating the SCSI commands so the operating system (OS) will see the storage as a local SCSI device that can be formatted as usual. Today, some of iSCSI's popularity in small to mid-sized businesses (SMBs) has to do with the way server virtualization makes use of storage pools. In a virtualized environment, the storage pool is accessible to all of the hosts within the cluster and the cluster nodes communicate with the storage pool over the network through the use of the iSCSI protocol.
This image illustrates how a simple iSCSI SAN deployment could share the same infrastructure as the rest of the computers on the network. Ideally, however, the two networks would run separately to avoid network congestion.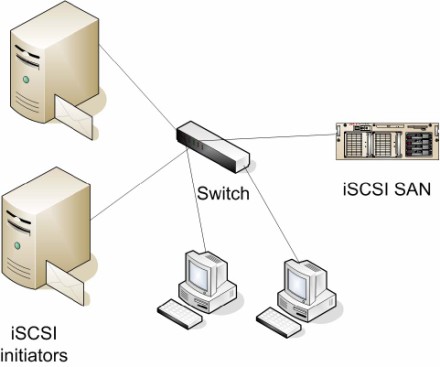 Continue Reading About iSCSI (Internet Small Computer System Interface)
ITKE asks:

What challenges have you faced when implementing iSCSI?