Essential Guide
Guide to managing data center costs and the IT budget
A comprehensive collection of articles, videos and more, hand-picked by our editors
direct-attached storage (DAS)
Direct-attached storage (DAS) is computer storage that is directly attached to one computer or server and is not, without special support, directly accessible to other ones.
FROM THE ESSENTIAL GUIDE:
Direct-attached storage (DAS) is computer storage that is connected to one computer and not accessible to other computers. For an individual computer user, the hard drive is the usual form of direct-attached storage.
2015 Planning: The Top 10 Data Storage Definitions You Need To Know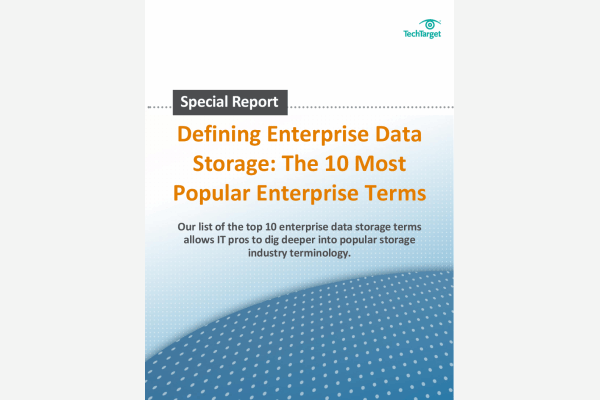 Whether you're a seasoned IT expert or a relative newcomer, the jargon surrounding data storage technologies can be overwhelming. Before you finalize your 2015 planning, refer to this Special Report to find out the top 10 most important storage terms you need to know today.
By submitting your personal information, you agree to receive emails regarding relevant products and special offers from TechTarget and its partners. You also agree that your personal information may be transferred and processed in the United States, and that you have read and agree to the Terms of Use and the Privacy Policy.

In the enterprise, individual disk drives in a server are called direct-attached storage, as are groups of drives that are external to a server but are directly attached through SCSI, SATA and SAS interfaces. DAS can provide end users with better performance than networked storage can because the server does not have to traverse the network in order to read and write data. That is why enterprise organizations often turn to DAS for certain types of applications that require high performance. Microsoft, for example, recommends that Exchange installations use DAS.
In the past, direct-attached storage was often criticized as an inefficient way to manage enterprise storage because DAS storage can't be shared and it does not facilitate failover should the server crash. As virtualization has become mainstream, however, the advantages that DAS offers are once again gaining popularity.
The main alternatives to direct-attached storage are network-attached storage (NAS) and the storage area network (SAN).
Continue Reading About direct-attached storage (DAS)
PRO+
Content
Find more PRO+ content and other member only offers, here.