Data at rest is a term that is sometimes used to refer to all data in computer storage while excluding data that is traversing a network or temporarily residing in computer memory to be read or updated. Data at rest can be archival or reference files that are changed rarely or never; data at rest can also be data that is subject to regular but not constant change. Examples include vital corporate files stored on the hard drive of an employee's notebook computer, files on an external backup medium, files on the servers of a storage area network (SAN), or files on the servers of an offsite backup service provider.
Download: Getting Started with Cache Memory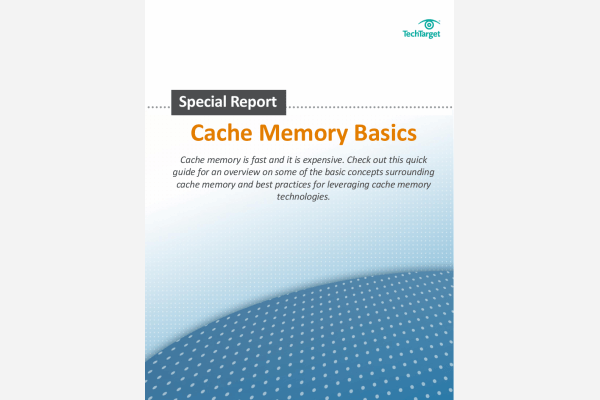 Eager to improve storage performance, many were quick to consider cache memory - but just as quickly find it to be challenging to implement and expensive. Check out this quick guide for an overview on some of the basic concepts surrounding cache memory and best practices for leveraging cache memory technologies.
By submitting your email address, you agree to receive emails regarding relevant topic offers from TechTarget and its partners. You can withdraw your consent at any time. Contact TechTarget at 275 Grove Street, Newton, MA.
You also agree that your personal information may be transferred and processed in the United States, and that you have read and agree to the Terms of Use and the Privacy Policy.

Businesses, government agencies, and other institutions are concerned about the ever-present threat posed by hackers to data at rest. In order to keep data at rest from being accessed, stolen, or altered by unauthorized people, security measures such as data encryption and hierarchical password protection are commonly used. For some types of data, specific security measures are mandated by law.
Continue Reading About data at rest
Dig Deeper on Secure data storage
PRO+
Content
Find more PRO+ content and other member only offers, here.