Definition
copy data management (CDM)
Copy data management (CDM) is an approach to reducing storage consumption that involves eliminating the unnecessary duplication of production data.

Download this free guide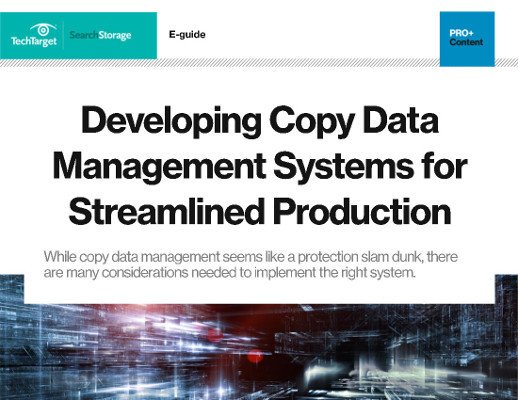 Copy management: Flexible framework amid solution fluctuations
While the honeymoon for standalone CDM appliances isn't over, many vendors also offer built-in CDM functionality. Download our guide for an examination of the CDM market, which vendors to keep your eye on (i.e. Actifio, Commvault, Catalogic, etc.), and a framework for establishing lasting copy management—no matter how the solutions for doing so fluctuate.
By submitting your personal information, you agree that TechTarget and its partners may contact you regarding relevant content, products and special offers.
You also agree that your personal information may be transferred and processed in the United States, and that you have read and agree to the Terms of Use and the Privacy Policy.
Backup software and other enterprise applications operate independently, often creating multiple copies of the same data. Redundant copies of the same data, however, can waste storage space, slow down network performance and make accessing or restoring mission critical data more difficult. CDM software can help eliminate those problems by reducing the number of full copies.
Most CDM software works by creating just one full copy of the data. When unique changes are made to the production environment, the software creates and stores a snapshot of incremental changes at the block level. The snapshot mechanism creates a read/write differencing disk with a parent-child relationship to the backup copy without creating an entire new copy. Because write operations are not directed to the backup copy, administrators do not have to worry about the contents of the primary backup being changed by accident. Reducing the number of full copies also reduces the chance of server sprawl and has a positive effect on costs, because valuable storage space is not taken up with unnecessary copies of data.
The phrase copy data management was made popular by storage vendor Actifio. Actifio captures production data, keeps a golden master current and spawns unlimited virtual copies for use whenever a copy of production data is needed. In a development, analytics or test environment, this approach is especially important; it means that the development, analytics or test environment can be based on an exact replica of the organization's production data without unnecessarily consuming storage space before it is needed.
Continue Reading About copy data management (CDM)
PRO+
Content
Find more PRO+ content and other member only offers, here.