carrier hotel (colocation center)
A carrier hotel, also called a colocation center, is a secure physical site or building where data communications media converge and are interconnected... (Continued)
Looking for something else?
A carrier hotel, also called a colocation center, is a secure physical site or building where data communications media converge and are interconnected. It is common for numerous service providers to share the facilities of a single carrier hotel. This minimizes overhead and optimizes communications efficiency for all participants as long as the infrastructure is sufficient to handle all the data at times of peak demand. A carrier hotel is a sizable facility, often containing more than 5000 square meters (approximately 54,000 square feet) of floor space. Businesses that benefit from the use of carrier hotels include Web site hosting companies, storage service providers and telecommunications companies.
2015 Planning: The Top 10 Data Storage Definitions You Need To Know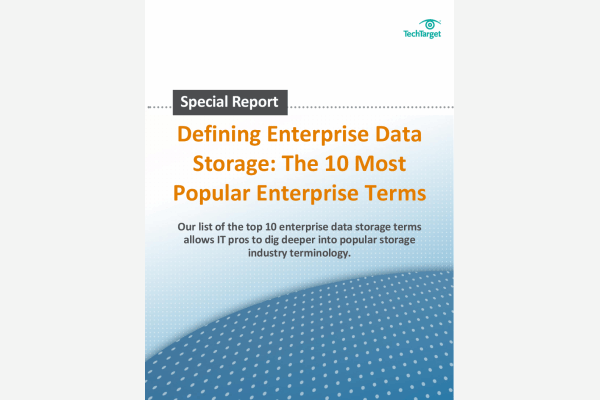 Whether you're a seasoned IT expert or a relative newcomer, the jargon surrounding data storage technologies can be overwhelming. Before you finalize your 2015 planning, refer to this Special Report to find out the top 10 most important storage terms you need to know today.
By submitting your personal information, you agree to receive emails regarding relevant products and special offers from TechTarget and its partners. You also agree that your personal information may be transferred and processed in the United States, and that you have read and agree to the Terms of Use and the Privacy Policy.

Colocation refers to the provision of space for a customer's communications equipment on the service provider's premises. For example, the owner of a Web site can place the site's servers on the premises of an Internet service provider (ISP). A carrier hotel provides colocation on a massive scale, offering various services to customers ranging from modest-sized racks to dedicated rooms or groups of rooms. Some carrier hotels offer hardware and software installation, maintenance and update services. A carrier hotel may also house a meeting room where human representatives for all the companies or guests served by the facility can exchange information and ideas of common interest.
Continue Reading About carrier hotel (colocation center)
PRO+
Content
Find more PRO+ content and other member only offers, here.