In most computer systems, a byte is a unit of data that is eight binary digits long. A byte is the unit most computers use to represent a character such as a letter, number, or typographic symbol (for example, "g", "5", or "?"). A byte can also hold a string of bits that need to be used in some larger unit for application purposes (for example, the stream of bits that constitute a visual image for a program that displays images or the string of bits that constitutes the machine code of a computer program).

Download this free guide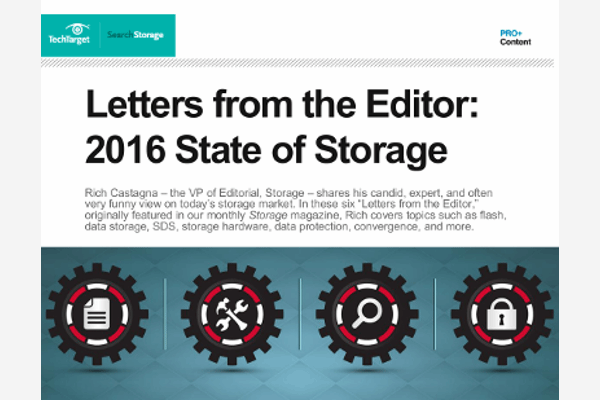 Letters from the Editor: 2016 State of Storage
Rich Castagna – the VP of Editorial, Storage – shares his candid, expert, and often very funny view on today's storage market. In these six "Letters from the Editor," originally featured in our monthly Storage magazine, Rich covers topics such as flash, data storage, SDS, storage hardware, data protection, convergence, and more.
By submitting your personal information, you agree that TechTarget and its partners may contact you regarding relevant content, products and special offers.
You also agree that your personal information may be transferred and processed in the United States, and that you have read and agree to the Terms of Use and the Privacy Policy.

In some computer systems, four bytes constitute a word, a unit that a computer processor can be designed to handle efficiently as it reads and processes each instruction. Some computer processors can handle two-byte or single-byte instructions.
A byte is abbreviated with a "B". (A bit is abbreviated with a small "b".) Computer storage is usually measured in byte multiples. For example, an 820 MB hard drive holds a nominal 820 million bytes - or megabytes - of data. Byte multiples are based on powers of 2 and commonly expressed as a "rounded off" decimal number. For example, one megabyte ("one million bytes") is actually 1,048,576 (decimal) bytes. (Confusingly, however, some hard disk manufacturers and dictionary sources state that bytes for computer storage should be calculated as powers of 10 so that a megabyte really would be one million decimal bytes.)
Some language scripts require two bytes to represent a character. These are called double-byte character sets (DBCS).
According to Fred Brooks, an early hardware architect for IBM, project manager for the OS/360 operating system, and author of The Mythical Man-Month, Dr. Werner Buchholz originated the term byte in 1956 when working on IBM's STRETCH computer.
Also see megabyte, gigabyte, terabyte, petabyte, exabyte, Kilo, mega, giga, tera, peta, and all that, and Kibi, mebi, gibi, tebi, pebi, and all that.
Continue Reading About byte
Dig Deeper on Enterprise storage, planning and management
PRO+
Content
Find more PRO+ content and other member only offers, here.