Definition
storage array (disk array)
A storage array, also called a disk array, is a data storage system that is used for block-based, file-based or object storage. The term is used to describe dedicated storage hardware that contains spinning hard disk drives (HDDs) and/or solid-state disk drives.

Download this free guide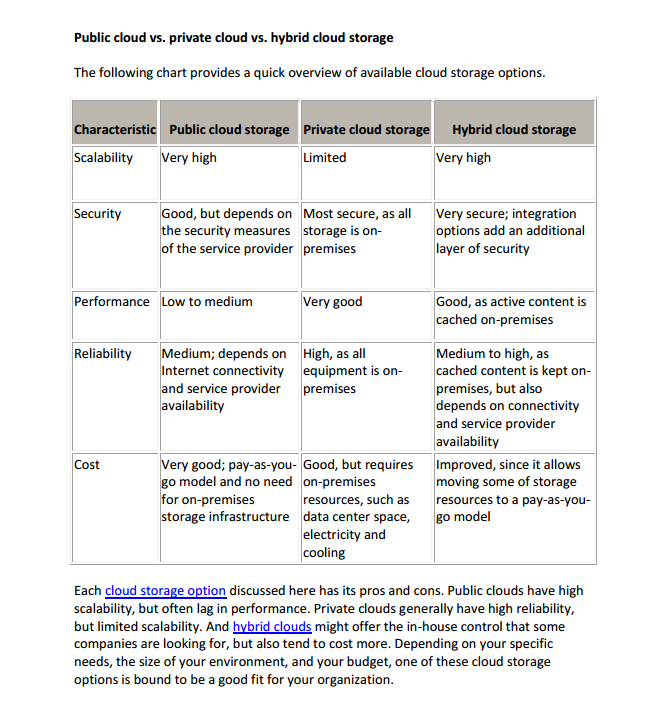 Cloud storage face-off: Public cloud vs. private cloud vs. hybrid cloud storage
Every cloud storage option has its pros and cons. Depending on your specific needs, the size of your environment, and your budget, it's essential to weigh all cloud and on-prem options. Download this comprehensive guide in which experts analyze and evaluate each cloud storage option available today so you can decide which cloud model – public, private, or hybrid – is right for you.
By submitting your personal information, you agree that TechTarget and its partners may contact you regarding relevant content, products and special offers.
You also agree that your personal information may be transferred and processed in the United States, and that you have read and agree to the Terms of Use and the Privacy Policy.
Arrays were initially designed to separate storage from servers so systems could be built into large, monolithic configurations for block- or file-based storage. They have complicated redundancy features built into them such as high-performance RAID controllers, and the storage may be configured with logical unit numbers (LUNs).
The storage array is the backbone of the modern business storage environment. Arrays have evolved into different designs for enterprise, midrange and small business environments, and offer a wide-range of data protection and high-availability features. They contain controllers -- the brains of the system -- that provide a level of abstraction between the operating system and physical drives. A controller has the ability to access copies of data across physical devices, and can take the form of a PCI or PCI Express card designed to support a specific drive format such as Serial ATA (SATA) or serial-attached SCSI (SAS).
Storage arrays and flash storage
Initially built for HDDs for storage area networks (SANs) -- block-based storage – or network-attached storage (NAS) -- file-based storage -- there are now systems built for flash or solid-state drive (SSD) storage arrays. Flash arrays contain flash memory drives designed to overcome the performance and capacity limitations of mechanical, spinning disk drives. A flash array can read data from SSDs much faster than disk drives and are increasingly used to boost application performance. Storage arrays can be all-flash, all-spinning disk or hybrids combining both types of media.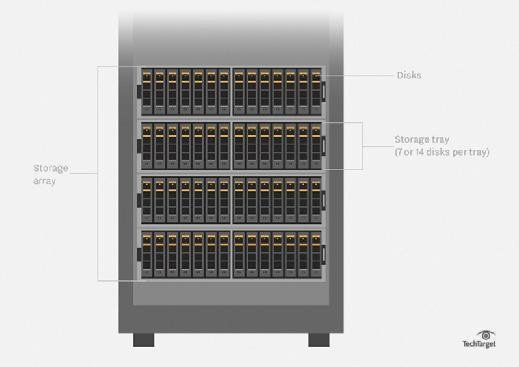 An enterprise-level storage array is for configurations that contain hundreds of servers. It can process server compute power to handle huge amounts of data transactions per second. A midsize or low-end storage array is a stripped down version for environments with only a few servers.
Continue Reading About storage array (disk array)
Dig Deeper on Storage Resources
PRO+
Content
Find more PRO+ content and other member only offers, here.