Virtual Storage Portal (VSP)
Another meaning for VSP is vertical solutions provider.
Looking for something else?
Another meaning for VSP is vertical solutions provider.
2015 Planning: The Top 10 Data Storage Definitions You Need To Know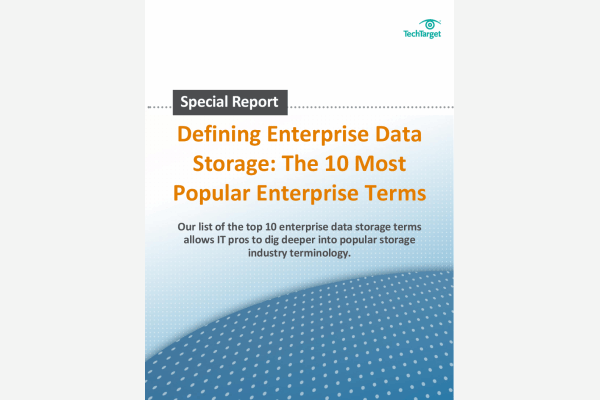 Whether you're a seasoned IT expert or a relative newcomer, the jargon surrounding data storage technologies can be overwhelming. Before you finalize your 2015 planning, refer to this Special Report to find out the top 10 most important storage terms you need to know today.
By submitting your personal information, you agree to receive emails regarding relevant products and special offers from TechTarget and its partners. You also agree that your personal information may be transferred and processed in the United States, and that you have read and agree to the Terms of Use and the Privacy Policy.

Virtual Storage Portal (VSP), a service mark of StorageNetworks, is a software application with a Web browser interface that lets a customer see how much storage is being used, predict future needs, grant access to storage administrators, view performance, and otherwise manage the storage that they have rented from StorageNetworks. As a leading storage service provider, StorageNetworks operates a network of what it calls "storage point-of-presence" data centers. An enterprise or a "dotcom" company with significant storage needs but a lack of expertise in buying and managing storage might choose to outsource its storage from a company like StorageNetworks. VSP allows this particular company's customers to look at its storage infrastructure and otherwise manage and forecast its rented storage resources. VSP is offered free to its customers. StorageNetworks has no immediate plans to market it independently. Like similar companies, StorageNetworks offers "plain old storage space" as well as more expensive backup service and a "zero loss" service.
Continue Reading About Virtual Storage Portal (VSP)
PRO+
Content
Find more PRO+ content and other member only offers, here.