Travan
Travan is a linear magnetic tape product developed by the 3M Company... (Continued)
Looking for something else?
Travan is a linear magnetic tape product developed by the 3M Company. The product primarily competes against DDS (Digital Data Storage), AIT (advanced intelligent tape), and VXA tape formats. The technology uses an 8mm wide tape that is 750' long. Travan first appeared in the 1990s and was quickly standardized by the Quarter Inch Cartridge (QIC) Consortium for its easy adaptability, good performance and relatively large storage potential.
2015 Planning: The Top 10 Data Storage Definitions You Need To Know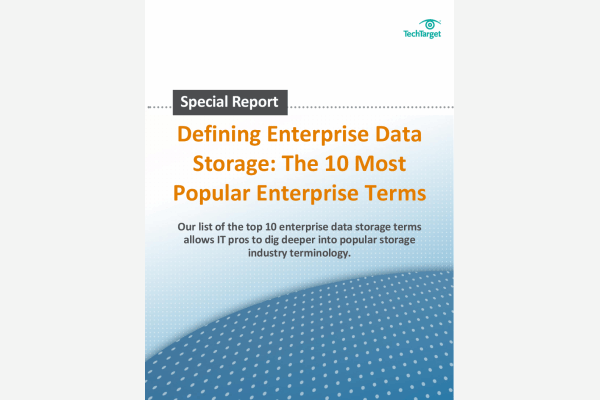 Whether you're a seasoned IT expert or a relative newcomer, the jargon surrounding data storage technologies can be overwhelming. Before you finalize your 2015 planning, refer to this Special Report to find out the top 10 most important storage terms you need to know today.
By submitting your personal information, you agree to receive emails regarding relevant products and special offers from TechTarget and its partners. You also agree that your personal information may be transferred and processed in the United States, and that you have read and agree to the Terms of Use and the Privacy Policy.

Since its introduction, eight different iterations of the Travan cartridge have appeared. Travan TR-1 cartridges use QIC-80 media to provide 400 MB of uncompressed capacity at 0.25 MB/s. The TR-2 cartridge doubles that capacity to 800 MB (uncompressed) on QIC-3010 media at 0.25 MB/s. The TR-3 cartridge doubles capacity again to 1.6 GB (uncompressed) QIC-3020 media, and doubles data transfers to 0.5 MB/s. Travan TR-4 offers 4 GB of uncompressed capacity on QIC-3095 media.
More recently, an 8 GB version offers 4 GB of uncompressed capacity once again, but increases transfer rates to 1.2 MB/s. Another variation uses NS8 cartridges with 4 GB of native capacity with 1.2 MB/s transfer rates. The Travan NS20 format provides 10 GB of uncompressed capacity at 2 MB/s transfer rates. The latest 40 GB cartridge offers up to 20 GB of uncompressed capacity with 4 MB/s transfer rates.
Continue Reading About Travan
PRO+
Content
Find more PRO+ content and other member only offers, here.