Secure Digital card (SD card)
A Secure Digital (SD) card is a tiny memory card used to make storage portable among various devices, such as car navigation systems, cellular phones, eBooks, PDAs, smartphones, digital cameras, music players, camcorders, and personal computers...(Continued)
A Secure Digital (SD) card is a tiny memory card used to make storage portable among various devices, such as car navigation systems, cellular phones, eBooks, PDAs, smartphones, digital cameras, music players, camcorders, and personal computers. An SD card features a high data transfer rate and low battery consumption, both primary considerations for portable devices. It uses flash memory to provide nonvolatile storage, which means that a power source is not required to retain stored data.
2015 Planning: The Top 10 Data Storage Definitions You Need To Know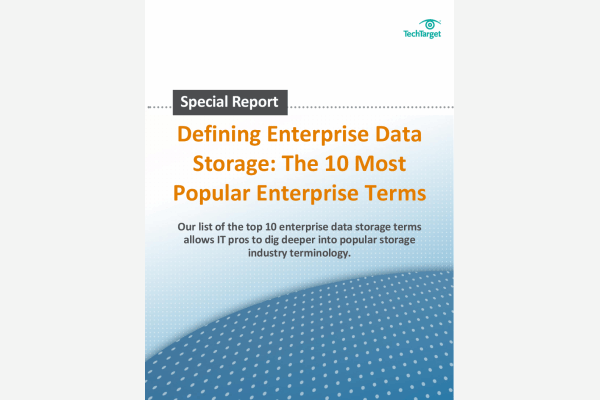 Whether you're a seasoned IT expert or a relative newcomer, the jargon surrounding data storage technologies can be overwhelming. Before you finalize your 2015 planning, refer to this Special Report to find out the top 10 most important storage terms you need to know today.
By submitting your personal information, you agree to receive emails regarding relevant products and special offers from TechTarget and its partners. You also agree that your personal information may be transferred and processed in the United States, and that you have read and agree to the Terms of Use and the Privacy Policy.

An SD card is about the size of a postage stamp and weighs approximately two grams. It is similar in size to a MultiMediaCard, but smaller than older memory card types such as the SmartMedia card and the CompactFlash card. Both MMC and SD cards provide encryption capabilities for protected content to ensure secure distribution of copyrighted material, such as digital music, video, and eBooks. SD cards are available with storage capacities as high as 4 gigabytes.
SD cards are more rugged than traditional storage media. They have an operating shock rating (basically, the height you can drop them from and still have them work) of 2,000 Gs, compared to a 100-200 G rating for the mechanical drive of the typical portable computing device. This translates to a drop to the floor from 10 feet, as compared to a single foot for the mechanical disk drive. Both MMC and SD cards use metal connector contacts, instead of the traditional pins-and-plugs, so they aren't as prone to damage during handling.
The SD card was jointly developed by Matsushita, SanDisk, and Toshiba.
Continue Reading About Secure Digital card (SD card)
PRO+
Content
Find more PRO+ content and other member only offers, here.