SCSI (Small Computer System Interface)
Definition: Learn what the SCSI (Small Computer System Interface) is, what part it played in the history of personal computing and how it is used today.
Looking for something else?
SCSI (pronounced SKUH-zee and sometimes colloquially known as "scuzzy"), the Small Computer System Interface, is a set of American National Standards Institute (ANSI) standard electronic interfaces that allow personal computers (PCs) to communicate with peripheral hardware such as disk drives, tape drives, CD-ROM drives, printers, and scanners faster and more flexibly than previous parallel data transfer interfaces.
2015 Planning: The Top 10 Data Storage Definitions You Need To Know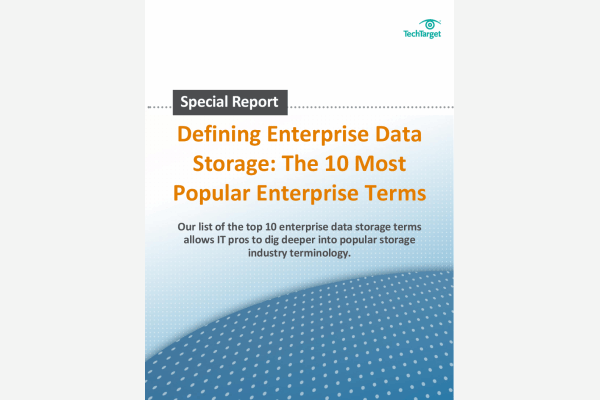 Whether you're a seasoned IT expert or a relative newcomer, the jargon surrounding data storage technologies can be overwhelming. Before you finalize your 2015 planning, refer to this Special Report to find out the top 10 most important storage terms you need to know today.
By submitting your personal information, you agree to receive emails regarding relevant products and special offers from TechTarget and its partners. You also agree that your personal information may be transferred and processed in the United States, and that you have read and agree to the Terms of Use and the Privacy Policy.

Although not all devices support all levels of SCSI, SCSI standards are generally backwards-compatible. That is, if an older peripheral device is attached to a newer computer with support for a later standard, the older device will work at the older and slower data rate. In personal computing, SCSI interfaces have been replaced, for the most part, by Universal Serial Bus (USB). In the enterprise, SCSI is still being used in server farms for hard drive controllers.
Serial-attached SCSI (SAS) products are compatible with devices that employ earlier SCSI technologies. The Serial Storage Architecture (SSA) standard can be used when SCSI performance is not adequate as can iSCSI, which preserves the SCSI command set by embedding of SCSI-3 over TCP/IP.
Current SCSIs can transfer up to 320 megabytes per second (MB/ps). Currently existing SCSI standards are summarized in the table below:
Technology
Name

Maximum Cable
Length (meters)
Maximum
Speed
(MBps)
Maximum
Number of
Devices
SCSI-1
6
5
8
Fast SCSI
3
10
8
Fast Wide SCSI
3
20
16
Ultra SCSI
1.5
20
8
Ultra SCSI
3
20
4
Wide Ultra SCSI
-
40
16
Wide Ultra SCSI
1.5
40
8
Wide Ultra SCSI
3
40
4
Ultra2 SCSI
(4)
40
8
Wide Ultra2 SCSI
(4)
80
16
Ultra3 SCSI (Ultra160 SCSI)
(4)
160
16
Ultra320 SCSI
(4)
320
16
See also: SCSI controller
Continue Reading About SCSI (Small Computer System Interface)