RAID 10 (redundant array of independent disks) definition
RAID 10, also known as RAID 1+0, combines disk mirroring and disk striping to protect data.
Download: Getting Started with Cache Memory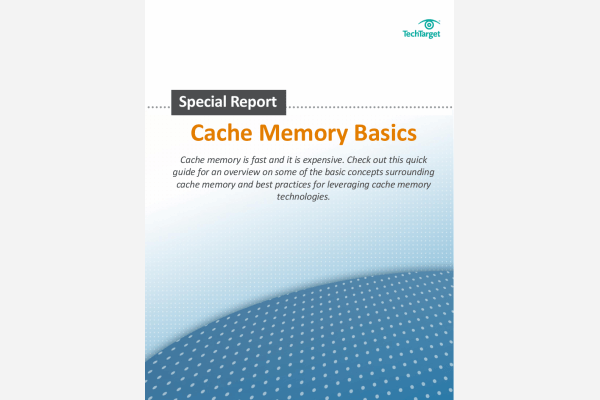 Eager to improve storage performance, many were quick to consider cache memory - but just as quickly find it to be challenging to implement and expensive. Check out this quick guide for an overview on some of the basic concepts surrounding cache memory and best practices for leveraging cache memory technologies.
By submitting your email address, you agree to receive emails regarding relevant topic offers from TechTarget and its partners. You can withdraw your consent at any time. Contact TechTarget at 275 Grove Street, Newton, MA.
You also agree that your personal information may be transferred and processed in the United States, and that you have read and agree to the Terms of Use and the Privacy Policy.

A RAID 10 configuration requires a minimum of four disks, and stripes data across mirrored pairs. As long as one disk in each mirrored pair is functional, data can be retrieved. If two disks in the same mirrored pair fail, all data will be lost because there is no parity in the striped sets.
RAID 10 provides redundancy and performance, and is the best option for I/O-intensive applications. One disadvantage is that only 50% of the total raw capacity of the drives is usable due to mirroring.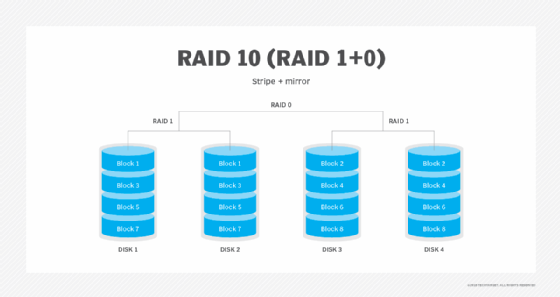 Continue Reading About RAID 10 (redundant array of independent disks)
PRO+
Content
Find more PRO+ content and other member only offers, here.