Definition
NVMe over FC (Nonvolatile Memory Express over Fibre Channel)
Nonvolatile Memory Express over Fibre Channel (NVMe over FC) is a technology specification designed to enable NVMe-based message commands to transfer data and status information between a host computer and a target storage subsystem over a Fibre Channel network fabric.

Download this free guide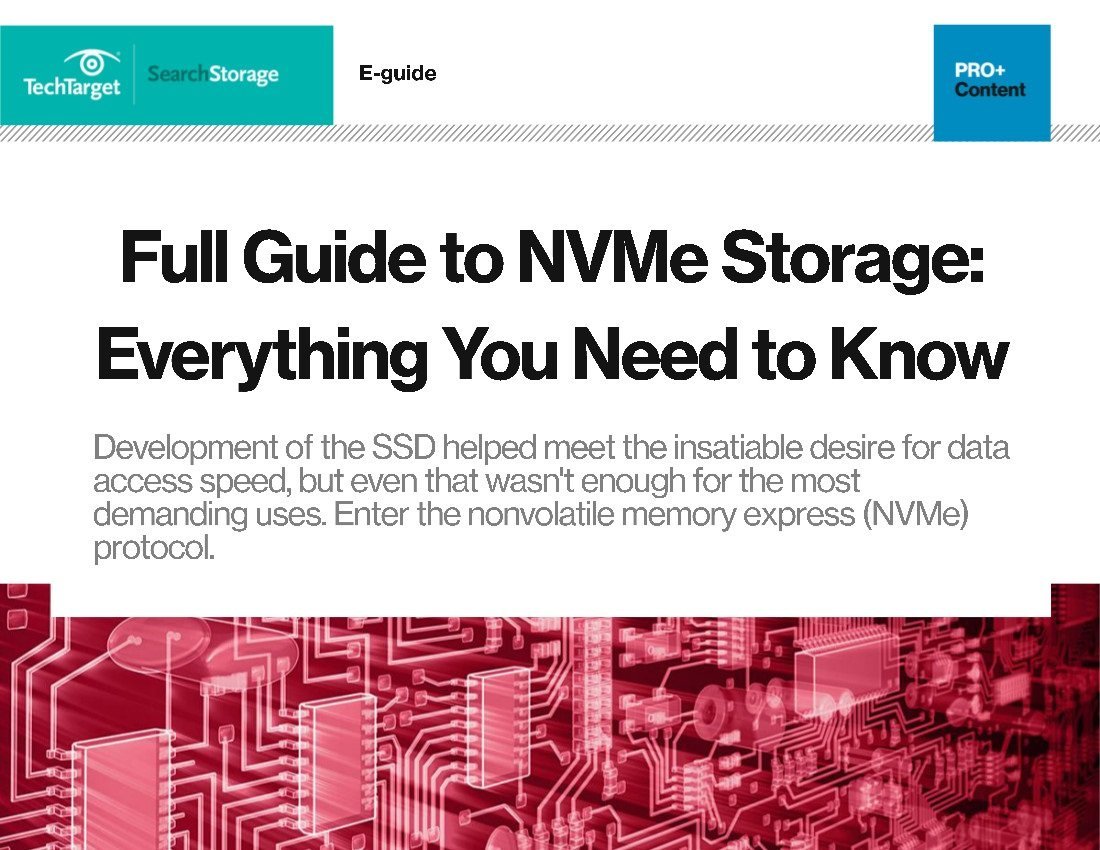 NVMe: The networked future for insatiable data access speeds
NVMe's no longer just a protocol for fast flash drive connections to a PC via the PCI Express bus. Discover the future of NVMe usage here, including exclusive details on how the M.2 SSD form factor is approaching server-ready capacity and speed.
By submitting your personal information, you agree that TechTarget and its partners may contact you regarding relevant content, products and special offers.
You also agree that your personal information may be transferred and processed in the United States, and that you have read and agree to the Terms of Use and the Privacy Policy.
Fibre Channel (FC) is a fabric transport option for NVMe over Fabrics (NVMe-oF), a specification developed by NVM Express Inc., a non-profit organization with more than 100 member technology companies. Additional NVMe transport options include remote direct memory access (RDMA) over Ethernet and InfiniBand. NVM Express Inc. published the 1.0 version of NVMe-oF on June 5, 2016.
The T11 committee of the International Committee for Information Technology Standards (INCITS) defined a frame format and mapping protocol to apply NVMe-oF to Fibre Channel. The T11 committee, which develops FC standards, refers to the NVMe over FC specification as Fibre Channel-NVMe (FC-NVMe).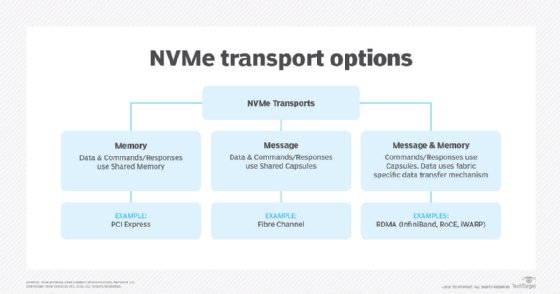 The FC protocol allows other protocols -- such as NVMe, Small Computer System Interface (SCSI) and IBM's proprietary Fibre Connection (FICON) – to be mapped on top of it, enabling the transfer of data and commands between a host computer and a peripheral target storage device or system.
NVMe Express Inc. developed NVMe for fast media, which can include solid-state drives (SSDs) and additional memory-based technologies. In contrast to SCSI and FICON, NVMe offers a streamlined register interface and command set, and it reduces the I/O stack's CPU overhead, lowers latency and improves performance.
A major distinction between NVMe and NVMe-oF is the mechanism for sending and receiving commands. NVMe maps commands and responses to shared memory in the host computer via the PCI Express (PCIe) interface protocol. NVMe-oF uses a message-based model to send requests and responses between a host and a target storage device over a network fabric.
NVMe over Fabrics facilitates the use of alternative transports to PCIe to expand the distance over which an NVMe host and an NVMe storage subsystem can communicate. The initial design goal for NVMe-oF was to add no more than 10 microseconds of latency between the NVMe host and NVMe storage target, connected over a suitable network fabric, in comparison to the latency of an NVMe storage device using a local host's PCIe bus.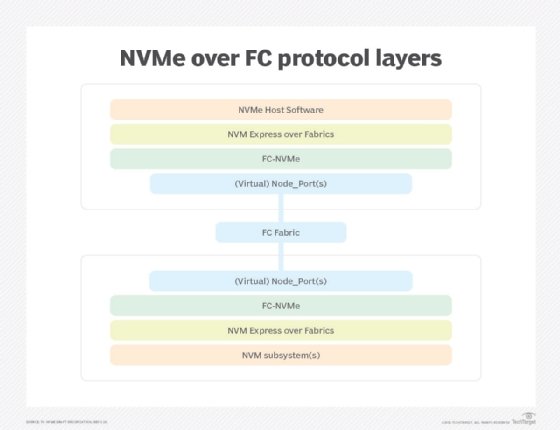 Infrastructure components that must support NVMe over FC to enable the potential benefits include the storage operating system (OS) and network adapter cards.
Continue Reading About NVMe over FC (Nonvolatile Memory Express over Fibre Channel)
PRO+
Content
Find more PRO+ content and other member only offers, here.