Definition
NOR flash memory
NOR flash memory is a type of non-volatile storage technology that does not require power to retain data.
There are two types of flash memory, NOR and NAND. The names refer to the type of logic gate used in each memory cell. (Logic gates are a fundamental building block of digital circuits). NOR flash memory was first introduced by Intel in 1988. NAND flash was introduced by Toshiba in 1989.

Download this free guide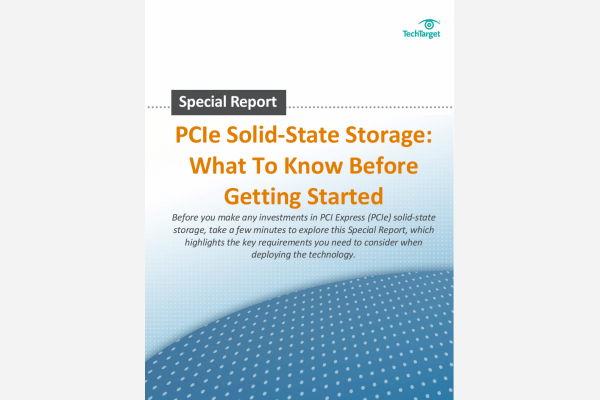 Weigh the pros and cons of PCIe-based SSD
So you've determined that flash storage is right for your organization, but with so many types and deployment models available, how do you choose amongst all the varieties? Start by considering PCIe-based SSD.
By submitting your personal information, you agree that TechTarget and its partners may contact you regarding relevant content, products and special offers.
You also agree that your personal information may be transferred and processed in the United States, and that you have read and agree to the Terms of Use and the Privacy Policy.
The two chips work differently. NOR flash is faster, but it's also more expensive and takes longer to erase and write new data. NOR is most often used in mobile phones. NAND has significantly higher storage capacity than NOR. It has found a market in devices to which large files are frequently uploaded and replaced. MP3 players, digital cameras and USB drives use NAND flash.
NAND devices are accessed serially, using the same eight pins to transmit control, addressing and data. NOR flash memory supports one-byte random access, which allows machine instructions to be retrieved and run directly from the chip, in the same way that a traditional computer will retrieve instructions directly from main memory. NOR flash has an SRAM interface that includes enough address pins to map the entire chip, enabling for access to every byte stored within it.
Some devices use both NAND and NOR. A pocket PC, for instance, may use embedded NOR to boot up the operating system and a removable NAND card for all its other memory or storage requirements.
Learn more about IT:
> Peter DiPaolo compared NOR and NAND flash memory at Embedded.com.
> Linux Journal hosts a white paper, "Choosing NAND or NOR Flash Memory: Tradeoffs and Strategies."
Dig Deeper on Solid-state storage
PRO+
Content
Find more PRO+ content and other member only offers, here.