Definition
MRAM (magnetoresistive random access memory)
MRAM (magnetoresistive random access memory) is a method of storing data bits using magnetic charges instead of the electrical charges used by DRAM (dynamic random access memory). Scientists define a metal as magnetoresistive if it shows a slight change in electrical resistance when placed in a magnetic field. By combining the high speed of static RAM and the high density of DRAM, proponents say MRAM could be used to significantly improve electronic products by storing greater amounts of data, enabling it to be accessed faster while consuming less battery power than existing electronic memory.

Download this free guide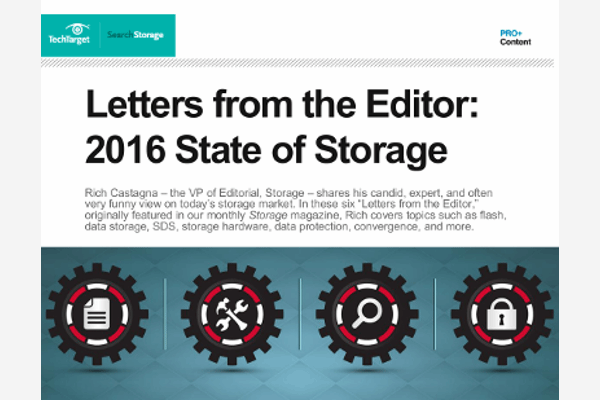 Letters from the Editor: 2016 State of Storage
Rich Castagna – the VP of Editorial, Storage – shares his candid, expert, and often very funny view on today's storage market. In these six "Letters from the Editor," originally featured in our monthly Storage magazine, Rich covers topics such as flash, data storage, SDS, storage hardware, data protection, convergence, and more.
By submitting your personal information, you agree that TechTarget and its partners may contact you regarding relevant content, products and special offers.
You also agree that your personal information may be transferred and processed in the United States, and that you have read and agree to the Terms of Use and the Privacy Policy.
Conventional random access memory (RAM) computer chips store information as long as electricity flows through them. Once power is turned off, the information is lost unless it has been copied to a hard drive or floppy disk. MRAM, however, retains data after a power supply is cut off. Replacing DRAM with MRAM could prevent data loss and enable computers that start instantly, without waiting for software to boot up.
The U.S. Defense Advanced Research Projects Agency (DARPA) has provided funding to help private industry conduct research into the potential of MRAM. Beginning in 1995, DARPA began funding three private consortia researching the viability of making MRAM a general-purpose memory with high density, high speed, and low power usage. Leading the three consortia were IBM, Motorola, and Honeywell. Hewlett-Packard, Matsushita, NEC, Fujitsu, Toshiba, Hitachi, and Siemens also have invested in MRAM research.
Motorola Labs says its "universal memory" allows the integration of several memory options within a single chip, resulting in a chip that uses less power. The chip is a three-volt MRAM with an address access time of about 15 nanoseconds. IBM and Infineon Technologies AG are working on a proposed 256-megabit chip they say could be on the market in 2004.
Development of MRAM basically followed two scientific schools: 1) spin electronics, the science behind giant magnetoresistive heads used in disk drives and 2) tunneling magnetic resistance, or TMR, which is expected to be the basis of future MRAM.
Continue Reading About MRAM (magnetoresistive random access memory)
Dig Deeper on Data management tools
PRO+
Content
Find more PRO+ content and other member only offers, here.