Definition
HD-DVD (high-density DVD)
HD-DVD (high-density DVD) is a high capacity optical storagemedium. A single-layer HD-DVD provides up to 15 gigabytes (GB) of storage capacity and the double-layer disc offers up to 30 GB. A standard single-sided, single-layer DVD offers 4.7 GB storage capacity.

Download this free guide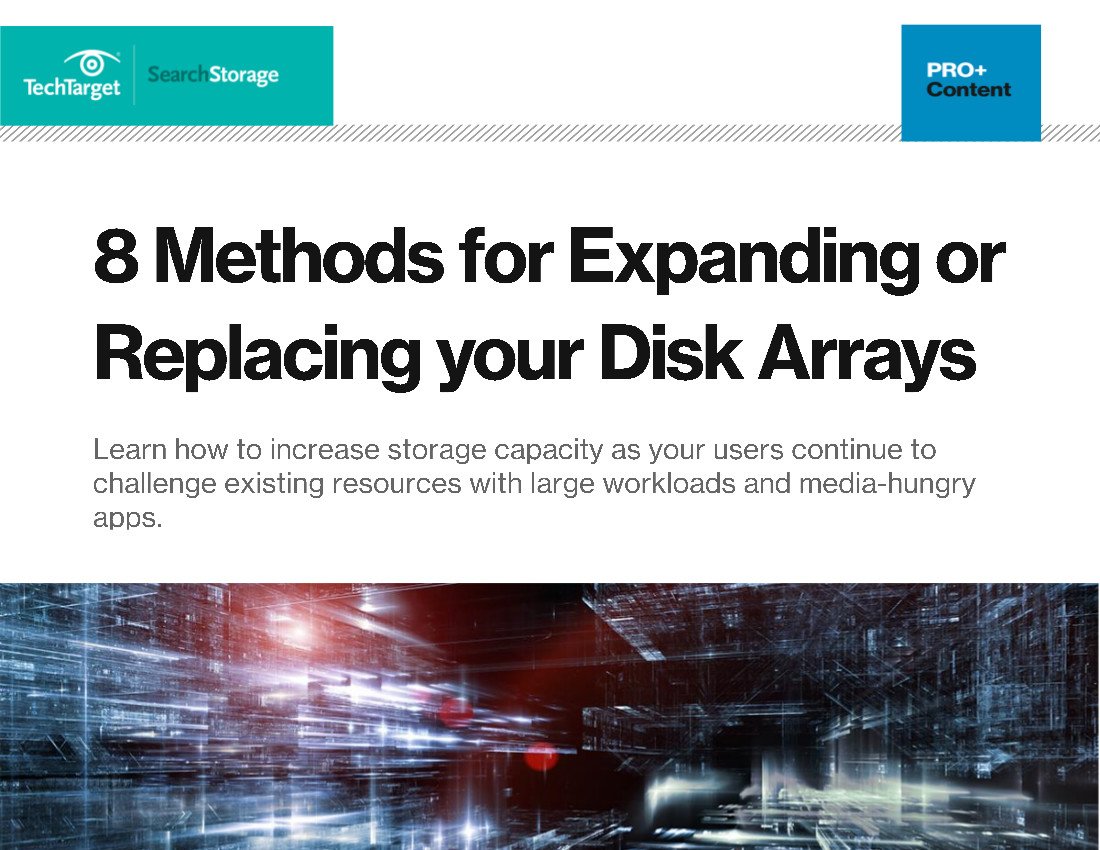 8 Steps to Expanding and Replacing Your Disk Arrays
Regardless of how high performing your storage array or how well you manage your data, every system comes to a breaking point. Whether it's long app loading times, or realizing after a disaster that your data isn't quite as available as you thought, when you reach that point, you'll need to be ready to expand or replace your existing disk array. In this guide, learn 8 things to take into consideration for when that time comes; it could be closer than you think.
By submitting your personal information, you agree that TechTarget and its partners may contact you regarding relevant content, products and special offers.
You also agree that your personal information may be transferred and processed in the United States, and that you have read and agree to the Terms of Use and the Privacy Policy.
A double-layer HD-DVD can contain up to eight hours of 1125-line high-density television (HDTV) programming or up to 48 hours of standard-definition television programming. The data transfer rate of an HD-DVD drive is approximately 36 megabits per second (Mbps) -- more than sufficient to accommodate digital TV signals which are transmitted at 24 Mbps.
HD-DVD stores more data by:
Using lasers with shorter wavelength: 405 nanometers (nm) in the visible blue range for HD-DVD compared with 650 nm in the visible red range for conventional DVD.
Employing a more sophisticated data compression: An HD-DVD player can reproduce data from disks that use either the MPEG-2 standard or the more robust MPEG-4 AVC and VC-1 compression standards.
Spacing tracks more closely together. A conventional DVD has a track pitch (spacing) of 0.75 micrometers, while HD-DVD uses a track pitch of0.40 micrometers.
HD-DVD and Blu-Ray are the two formats most often predicted to replace conventional DVD. A higher-capacity holographic storage medium called HVD (holographic versatile disc) is expected to reach the consumer market in 2008.
Continue Reading About HD-DVD (high-density DVD)
Dig Deeper on Storage Resources
PRO+
Content
Find more PRO+ content and other member only offers, here.