Definition
Fibre Channel director (FC director)
A Fibre Channel (FC) director is a modular, chassis-based networking device that provides connectivity between host servers, switches and storage systems in a dedicated FC storage area network (SAN).

Download this free guide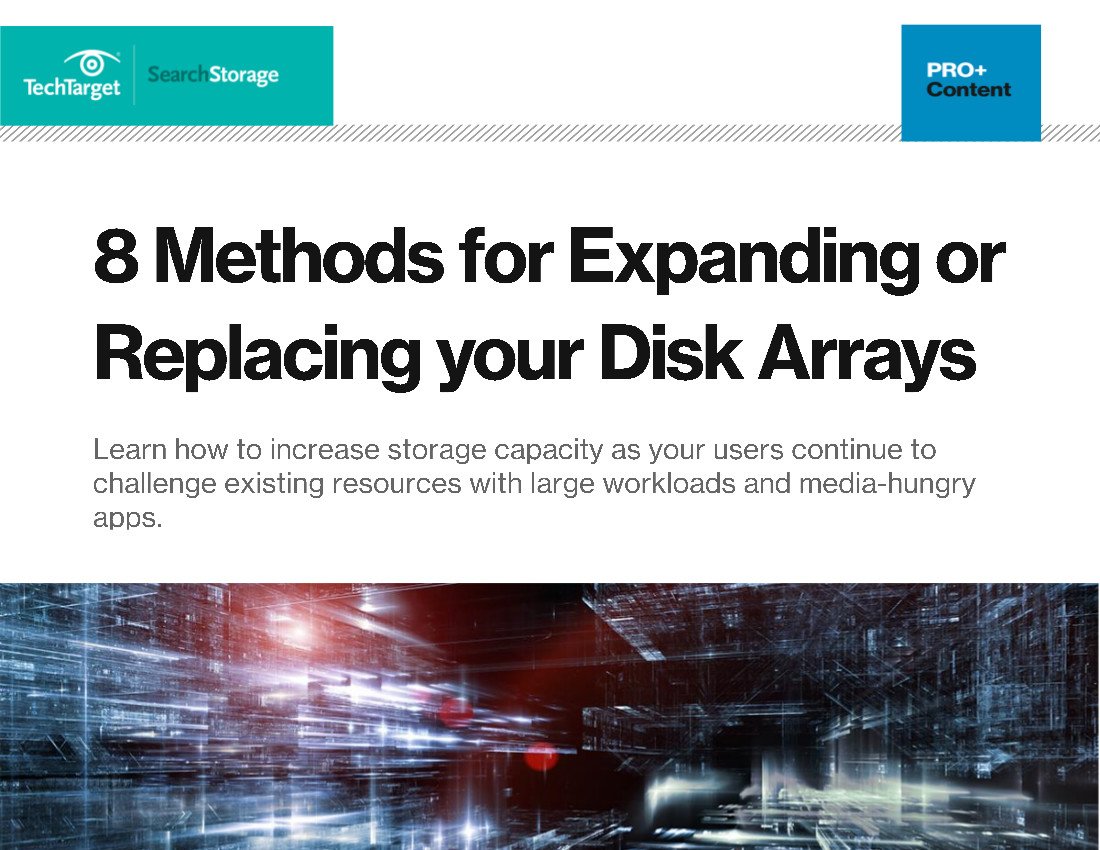 8 Steps to Expanding and Replacing Your Disk Arrays
Regardless of how high performing your storage array or how well you manage your data, every system comes to a breaking point. Whether it's long app loading times, or realizing after a disaster that your data isn't quite as available as you thought, when you reach that point, you'll need to be ready to expand or replace your existing disk array. In this guide, learn 8 things to take into consideration for when that time comes; it could be closer than you think.
By submitting your personal information, you agree that TechTarget and its partners may contact you regarding relevant content, products and special offers.
You also agree that your personal information may be transferred and processed in the United States, and that you have read and agree to the Terms of Use and the Privacy Policy.
An FC director switch is designed to handle heavy loads of storage I/O traffic, facilitate lossless data transmission, and deliver high availability, high bandwidth and low latency. Slots for FC line cards, modules and/or blades allow for hundreds of ports to enable end users to build a larger and more resilient SAN fabric than they could create with less expensive basic FC switches.
A common architectural approach for an FC SAN is a core/edge design in which the user deploys basic switches at the edge of the network and one or more large FC director-class switches at the core. An FC director can eliminate the need for many of the inter-switch links (ISLs) that are often used to connect multiple fixed-port switches. The result is a less complex architecture, lower latency and eased management due to fewer switches.
FC director-class switches have redundant components such as control processors, power supplies and cooling fans to eliminate the risk of a single point of failure. Using an FC director, the user can generally replace problematic components and update software and firmware without system downtime.
The major manufacturers of FC directors are Brocade Communications Systems Inc. and Cisco Systems Inc. Brocade refers to its largest FC directors as backbone switches. Cisco's MDS Multilayer Director is the main competitive product to Brocade's DCX Backbone. Their products have varying numbers of slots.
Differentiators among FC directors include port count, performance, features and price. An FC director typically provides advanced features such as support for virtual SANs, FICON for mainframes and long-distance connections. The FC director's modular architecture also allows users to add capabilities such as Fibre Channel over IP (FCIP) replication and Fibre Channel over Ethernet (FCoE). Brocade provides add-ons through specialty blades, while Cisco calls them service or line cards or modules.
An FC director typically ships with management software for performance monitoring, quality of service (QoS) and other functions. The director is typically able to pass information via Simple Network Management Protocol (SNMP) to higher-level management software.
An FC director is generally purchased through a server vendor, storage vendor, systems integrator or value-added reseller (VAR).
Continue Reading About Fibre Channel director (FC director)
Dig Deeper on SAN technology and arrays
PRO+
Content
Find more PRO+ content and other member only offers, here.