FCoE (Fibre Channel over Ethernet) definition
FCoE (Fibre Channel over Ethernet) is a storage protocol that enable Fibre Channel communications to run directly over Ethernet. FCoE makes it possible to move Fibre Channel traffic across existing high-speed Ethernet infrastructure and converges storage and IP protocols onto a single cable transport and interface.
SAN Basics: Fibre Channel vs. iSCSI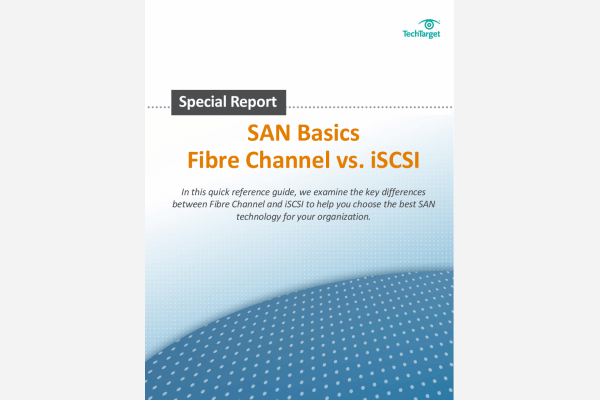 In this quick reference guide, the team at SearchStorage.com examine the key differences between Fibre Channel and iSCSI to help you choose the best SAN technology for your organization.
By submitting your email address, you agree to receive emails regarding relevant topic offers from TechTarget and its partners. You can withdraw your consent at any time. Contact TechTarget at 275 Grove Street, Newton, MA.
You also agree that your personal information may be transferred and processed in the United States, and that you have read and agree to the Terms of Use and the Privacy Policy.

The goal of FCoE is to consolidate input/output (I/O) and reduce switch complexity as well as to cut back on cable and interface card counts. Adoption of FCoE been slow, however, due to a scarcity of end-to-end FCoE devices and a reluctance on the part of many organizations to change the way they implement and manage their networks.
Traditionally, organizations have used Ethernet for TCP/IP networks and Fibre Channel for storage networks. Fibre Channel supports high-speed data connections between computing devices that interconnect servers with shared storage devices and between storage controllers and drives. FCoE shares Fibre Channel and Ethernet traffic on the same physical cable or lets organizations separate Fibre Channel and Ethernet traffic on the same hardware.
FCoE uses a lossless Ethernet fabric and its own frame format. It retains Fibre Channel's device communications but substitutes high-speed Ethernet links for Fibre Channel links between devices.
FCoE works with standard Ethernet cards, cables and switches to handle Fibre Channel traffic at the data link layer, using Ethernet frames to encapsulate, route, and transport FC frames across an Ethernet network from one switch with Fibre Channel ports and attached devices to another, similarly equipped switch.
FCoE is often compared to iSCSI, an Internet Protocol(IP)-based storage networking standard.
Continue Reading About FCoE (Fibre Channel over Ethernet)
Dig Deeper on Fibre Channel (FC) SAN
PRO+
Content
Find more PRO+ content and other member only offers, here.