DVD-RAM is a DVD (optical disc) technology for high-capacity data storage for computers. Like ordinary random access memory (RAM), it can be repeatedly read, written to, and erased. Intended mostly for removable computer storage, DVD-RAM provides the capabilities of Rewriteable CD (CD-RW) - users can run programs from the discs, copy files to them and rewrite or delete them. However, with a storage capacity of up to 9.4 gigabytes (GB) per double-sided disc, DVD-RAM has many times the capacity of CD-RW.
Download: Getting Started with Cache Memory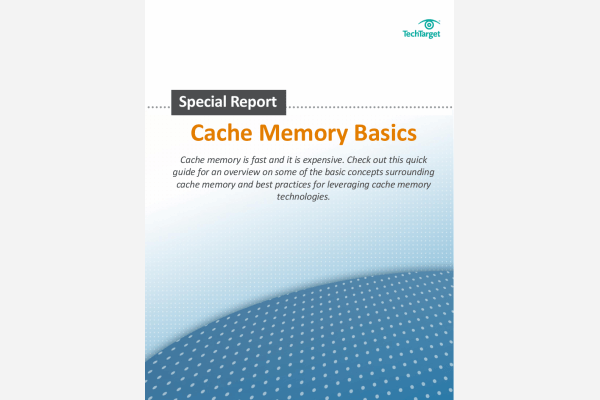 Eager to improve storage performance, many were quick to consider cache memory - but just as quickly find it to be challenging to implement and expensive. Check out this quick guide for an overview on some of the basic concepts surrounding cache memory and best practices for leveraging cache memory technologies.
By submitting your email address, you agree to receive emails regarding relevant topic offers from TechTarget and its partners. You can withdraw your consent at any time. Contact TechTarget at 275 Grove Street, Newton, MA.
You also agree that your personal information may be transferred and processed in the United States, and that you have read and agree to the Terms of Use and the Privacy Policy.

DVD-RAM discs can be rewritten 100,000 times, 100 times more than either DVD-RW or DVD+RW, the other two rewritable DVD formats. DVD-RAM drives can usually read both DVD Video discs and DVD-ROM discs, as well as any type of CD. Like other rewriteable DVD formats, DVD-RAM uses phase change recording, in which varying laser intensities cause targeted areas in the phase change recording layer to alternate between an amorphous and a crystalline state.
This was first published in
September 2005
Continue Reading About DVD-RAM
Dig Deeper on Data storage compliance and archiving
PRO+
Content
Find more PRO+ content and other member only offers, here.