CompactFlash card (CF card)
A CompactFlash (CF) card is a popular memory card developed by SanDisk in 1994 that uses flash memory to store data on a very small card.
Looking for something else?
TECHNOLOGIES

PRODUCTS
A CompactFlash (CF) card is a popular memory card developed by SanDisk in 1994 that uses flash memory to store data on a very small card. A CompactFlash card makes data easy to add to a wide variety of computing devices, including digital cameras and music players, desktop computers, personal digital assistants (PDAs), digital audio recorders, and photo printers.
2015 Planning: The Top 10 Data Storage Definitions You Need To Know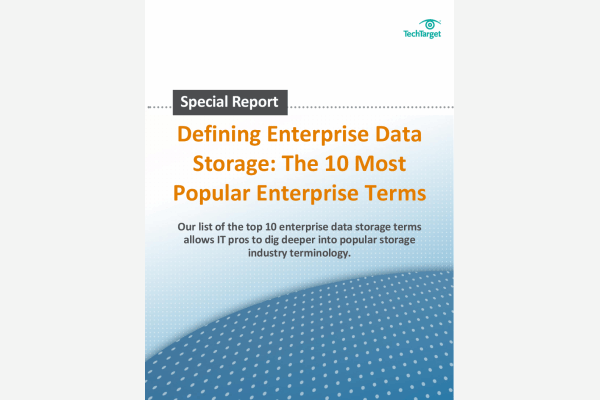 Whether you're a seasoned IT expert or a relative newcomer, the jargon surrounding data storage technologies can be overwhelming. Before you finalize your 2015 planning, refer to this Special Report to find out the top 10 most important storage terms you need to know today.
By submitting your personal information, you agree to receive emails regarding relevant products and special offers from TechTarget and its partners. You also agree that your personal information may be transferred and processed in the United States, and that you have read and agree to the Terms of Use and the Privacy Policy.

Based on the Personal Computer Memory Card International Association (PCMCIA) PC card specifications, CompactFlash measures 43 X 36 mm (about the size of a matchbook) and is available with storage capacities ranging up to 1 gigabyte (GB), with higher capacities corresponding to higher prices. CompactFlash is similar in size to the SmartMedia card, but larger than the newer, postage stamp-sized alternatives, MultiMediaCard and Secure Digital (SD) card. There are two different types of CF cards, of different thicknesses (to accomodate different capacities): Type I CF cards are 3.3 mm thick, compared to 5.5 mm for Type II cards.
Because flash is nonvolatile memory, stored data is retained when a device's power source is turned off or lost. CF cards feature solid-state construction, which makes them much more rugged than most traditional storage devices. The operating shock rating (basically, what height can you drop them from and have them still work) for CF cards is 2,000 Gs compared to a 100-200 G rating for the mechanical drive of the typical portable computing device. This translates to a drop to the floor from 10 feet, as compared to a single foot for the mechanical disk drive.
CompactFlash is a popular card choice for use with personal digital assistants (PDAs) and digital cameras. A high-end version, Ultra CompactFlash, is optimized for more demanding photography, such as a quickly shot succession of high-resolution pictures, or pictures of a moving subject, such as a bicycle race. Ultra CompactFlash provides a transfer rate twice that of SanDisk's standard memory cards, so that data can be quickly saved and the camera can be ready to capture another image.
There are adapters available for use with CompactFlash to enable access through a standard diskette drive, USB (Universal Serial Bus) port or PC card slot. Most platforms and systems that support the PCMCIA ATA (Advanced Technology Attachment) standard also support CompactFlash.
Continue Reading About CompactFlash card (CF card)
Dig deeper on Data management tools