Common Internet File System (CIFS)
The Common Internet File System (CIFS) is a legacy file-sharing protocol that is used to access files located on remote systems.
Looking for something else?
The Common Internet File System (CIFS) is a protocol that gained rapid popularity around the turn of the millennium (the year 2000) as vendors worked to establish an Internet Protocol-based file-sharing protocol. At its peak, CIFS was widely supported by operating systems (OSes) such as Windows, Linux and Unix.
2015 Planning: The Top 10 Data Storage Definitions You Need To Know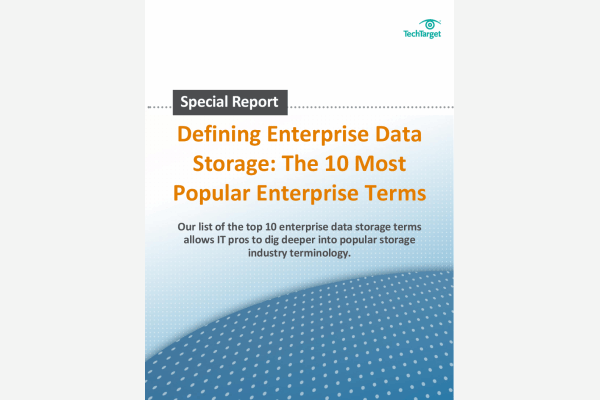 Whether you're a seasoned IT expert or a relative newcomer, the jargon surrounding data storage technologies can be overwhelming. Before you finalize your 2015 planning, refer to this Special Report to find out the top 10 most important storage terms you need to know today.
By submitting your personal information, you agree to receive emails regarding relevant products and special offers from TechTarget and its partners. You also agree that your personal information may be transferred and processed in the United States, and that you have read and agree to the Terms of Use and the Privacy Policy.

CIFS uses the client/server programming model. A client program makes a request of a server program (usually in another computer) to access a file or to pass a message to a program that runs in the server computer. The server takes the requested action and returns a response.
CIFS is a public or open variation of the original Server Message Block (SMB) protocol developed and used by Microsoft. Like the SMB protocol, CIFS runs at a higher level and uses the Internet's TCP/IP protocol. CIFS was viewed as a complement to existing Internet application protocols such as the File Transfer Protocol (FTP) and the Hypertext Transfer Protocol (HTTP). Today, CIFS is widely regarded as an obsolete protocol. Although some OSes still support CIFS, newer versions of the SMB protocol -- such as SMB 2.0 and SMB 3.0 -- have largely taken the place of CIFS.
Some capabilities of the CIFS protocol include:
The ability to access files that are local to the server and read and write to them;
File sharing with other clients using special locks;
Automatic restoration of connections in case of network failure; and
Unicode file names.
Continue Reading About Common Internet File System (CIFS)
PRO+
Content
Find more PRO+ content and other member only offers, here.
Margaret Rouse asks:

How can SMB replace CIFS when CIFS was originally an enhanced version of SMB?