Ceph is an open source software designed to provide highly scalable object-, block- and file-based storage under a unified system.
Download: Getting Started with Cache Memory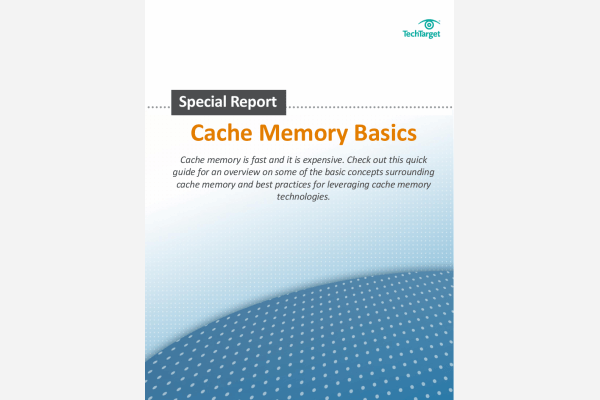 Eager to improve storage performance, many were quick to consider cache memory - but just as quickly find it to be challenging to implement and expensive. Check out this quick guide for an overview on some of the basic concepts surrounding cache memory and best practices for leveraging cache memory technologies.
By submitting your email address, you agree to receive emails regarding relevant topic offers from TechTarget and its partners. You can withdraw your consent at any time. Contact TechTarget at 275 Grove Street, Newton, MA.
You also agree that your personal information may be transferred and processed in the United States, and that you have read and agree to the Terms of Use and the Privacy Policy.

Ceph storage clusters are designed to run on commodity hardware, using an algorithm called CRUSH (Controlled Replication Under Scalable Hashing) to ensure that data is evenly distributed across the cluster and that all cluster nodes are able to retrieve data quickly without any centralized bottlenecks.
Ceph object storage is accessible through Amazon Simple Storage Service (S3) and OpenStack Swift Representational State Transfer (REST)-based application programming interfaces (APIs) and a native API for integration with software applications.
Ceph block storage makes use of a Ceph Block Device, which is a virtual disk that can be attached to bare-metal Linux-based servers or to virtual machines (VMs). The Ceph Reliable Autonomic Distributed Object Store (RADOS) provides block storage capabilities such as snapshots and replication. The Ceph RADOS Block Device (RBD) is integrated to work as a back end with OpenStack Block Storage.
Ceph file storage makes use of the Portable Operating System Interface (POSIX)-compliant Ceph file system (Ceph FS) to store data in a Ceph storage cluster. Ceph FS uses the same clustered system as Ceph block storage and Ceph object storage.
Inktank Storage Inc. sells a subscription-based, commercially supported version of Ceph. Sage Weil, the chief technology officer at Inktank, created Ceph as part of a Ph.D project at the University of California, Santa Cruz. The Ceph open source project started in 2004, and the software became available under an open source license in 2006.
See also: block storage, object storage
This was first published in
November 2013
Continue Reading About Ceph
PRO+
Content
Find more PRO+ content and other member only offers, here.