Business Continuity and Disaster Recovery (BCDR) definition
Business Continuity and Disaster Recovery (BCDR or BC/DR) are closely related practices that describe an organization's preparation for unforeseen risks to continued operations. The trend of combining business continuity and disaster recovery into a single term has resulted from a growing recognition that both business executives and technology executives need to be collaborating closely instead of developing plans in isolation.
The Top DR/BC Terms You Need To Know Right Now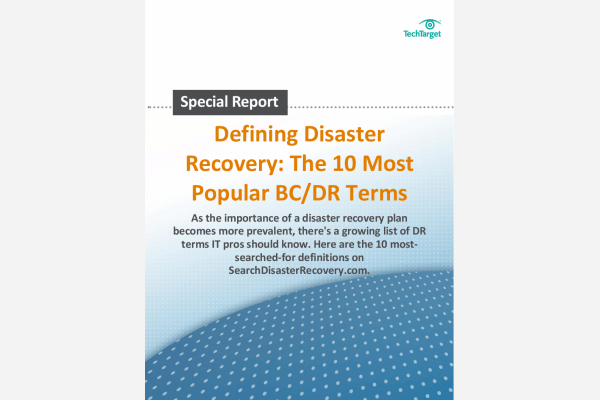 There have never before been more prevalent, persistent threats to our systems and data. Yet, while the tools and techniques need to adapt in turn to these new threats, the basics of DR haven't changed. Explore this list to find out the top DR/BC-related terms and definitions that are crucial for disaster preparedness.
By submitting your email address, you agree to receive emails regarding relevant topic offers from TechTarget and its partners. You can withdraw your consent at any time. Contact TechTarget at 275 Grove Street, Newton, MA.
You also agree that your personal information may be transferred and processed in the United States, and that you have read and agree to the Terms of Use and the Privacy Policy.

In general, disaster recovery refers to specific steps taken to resume operations in the aftermath of a catastrophic natural disaster or national emergency. In information technology, such steps may include restoring servers or mainframes with backups, re-establishing private branch exchanges (PBX) or provisioning local area networks (LANs) to meet immediate business needs.
Business continuity describes the processes and procedures an organization must put in place to ensure that mission-critical functions can continue during and after a disaster. In this sense, the concept is interchangeable with disaster recovery plan (DRP). Business continuity, however, also addresses more comprehensive planning that focuses on long term or chronic challenges to organizational success. Potential business continuity problems may include the illness or departure of key team members, supply chain breakdowns, catastrophic failures or critical malware infections.
Continue Reading About Business Continuity and Disaster Recovery (BCDR)
PRO+
Content
Find more PRO+ content and other member only offers, here.