News
Stay informed about the latest enterprise technology news and product updates.
Which storage cloud is fastest?
Do you ever wonder how long it would take to move a dozen terabytes from one cloud provider to another, or even between two accounts in the same cloud?

Download this free guide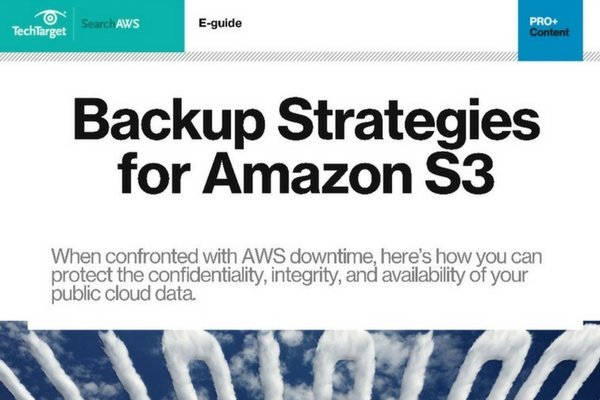 Amazon S3 in the spotlight: Your 34-page backup guide
In this guide curated by the SearchAWS.com editors, you'll evaluate and overcome the DR tradeoffs associated with Amazon S3, with guidance on solidifying an AWS backup plan and securing S3 buckets. Download your copy now.
By submitting your personal information, you agree that TechTarget and its partners may contact you regarding relevant content, products and special offers.
You also agree that your personal information may be transferred and processed in the United States, and that you have read and agree to the Terms of Use and the Privacy Policy.
Probably not, if you're sane. But maybe you do if you have data in the cloud and think you might want to switch one day for performance or pricing reasons. And you definitely do if you're a cloud storage vendor that promises service levels that might require non-disruptive cloud-to-cloud migration.
Nasuni fits in that last category, so the vendor conducted extensive testing of what it considers the top three cloud providers based on the stress testing it conducted last year. The latest results are entered in its Bulk Data Migration in the Cloud report issued today.
In case you were wondering, here's how long Nasuni estimates it would take to migrate a 12 TB volume:
• Amazon S3 to another Amazon S3 bucket: Four hours
• Amazon S3 to Microsoft Windows Azure: 40 hours
• Amazon S3 to Rackspace: Just under one week
• Microsoft Windows Azure to Amazon S3: Four hours
• Rackspace to Amazon S3: Five hours
Nasuni CEO Andres Rodriguez said transmission speeds vary depending on time of day, but the biggest difference is the cloud providers' write capabilities because S3 had by far the best transfer times.
Nasuni determines the best back-end cloud for its customers, and usually selects S3 with Azure as the second choice. Nasuni's competitors sell storage appliances and let customers pick their cloud provider, but Rodriguez said Nasuni picks the cloud provider to meet its SLAs.
"Our enterprise customers using storage in their data centers let Nasuni be the one to move data," he said. "All customers want from Nasuni is storage service. They don't care about which cloud it's unless they want data in a specific geographic location. But that's a location issue, not a provider issue."
That means Nasuni customers can't decide to switch providers based on pricing changes, but Rodriguez said he doesn't recommend that practice.
"This is not an operation you want to be doing dynamically daily so you can save a few cents here and there," he said. "You do it to take advantage of better features and performance."