News
Stay informed about the latest enterprise technology news and product updates.
VMware gives EVO:RAIL hardware partners more options
VMware is giving its hardware partners more options for building EVO:RAIL hyper-converged appliances.
Dell, EMC, Hewlett-Packard, Hitachi Data Systems, and Supermicro are among the hardware vendors who sell EVO:RAIL appliances packaged with VMware's Virtual SAN (VSAN) hyper-convergence application.

Download this free guide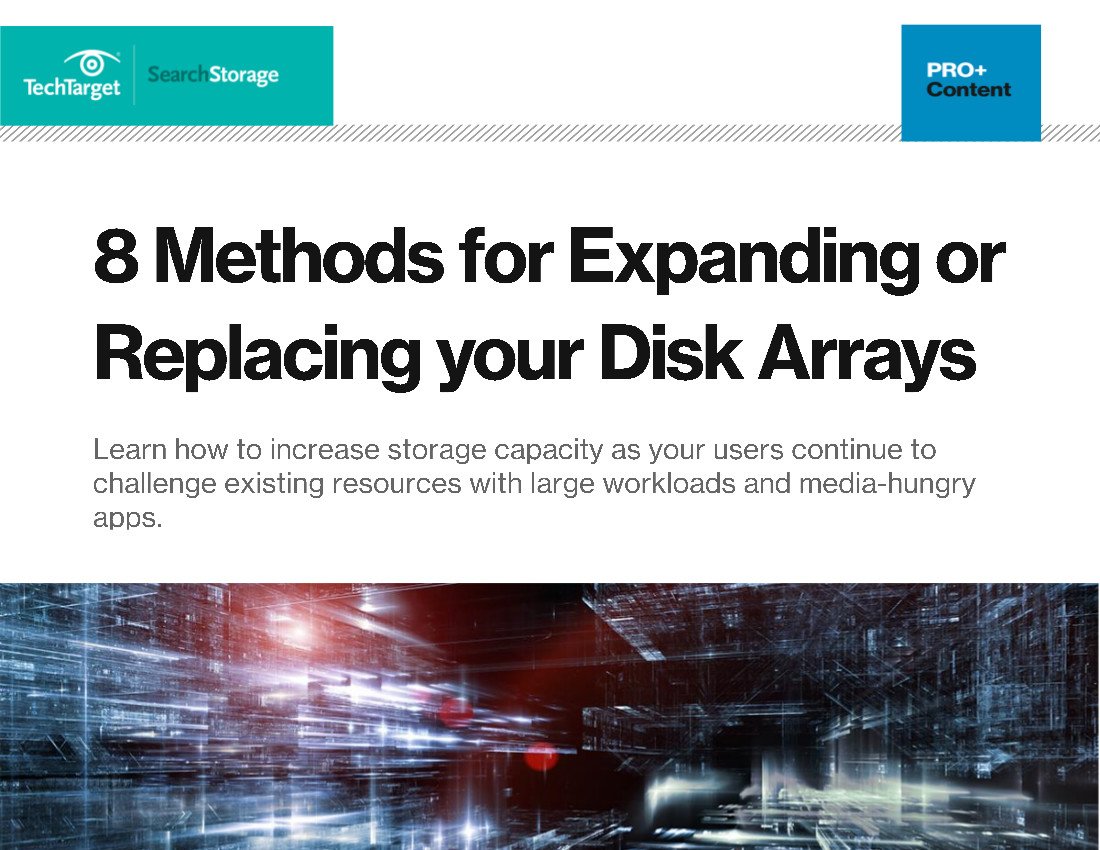 8 Steps to Expanding and Replacing Your Disk Arrays
Regardless of how high performing your storage array or how well you manage your data, every system comes to a breaking point. Whether it's long app loading times, or realizing after a disaster that your data isn't quite as available as you thought, when you reach that point, you'll need to be ready to expand or replace your existing disk array. In this guide, learn 8 things to take into consideration for when that time comes; it could be closer than you think.
By submitting your personal information, you agree that TechTarget and its partners may contact you regarding relevant content, products and special offers.
You also agree that your personal information may be transferred and processed in the United States, and that you have read and agree to the Terms of Use and the Privacy Policy.
VMware's new configuration options can support approximately 1,600 generic virtual machines (VMs) and 2,400 virtual desktops in an eight-appliance (32-node) cluster, up from 800 generic VMs and 2,000 virtual desktops in the previously supported configuration.
EVO:RAIL hardware options now include dual six-, eight-, 10- or 12-core Intel Haswell or Ivy Bridge CPUs per node, 128 GB to 512 GB of memory per node and two capacity options. The first capacity option is one 400 GB solid state drive (SSD0 with three 1.2 TB hard disk drives per node for 1.6 TB of raw SSD capacity and 14.4 TB of total hard disk capacity per appliance. The second option is one 800 GB SSD and five 1.5 TB hard disk drives per node for 3.2 TB of raw SSD and 24 TB of hard disk capacity per appliance.
The original EVO:RAIL configuration set last August was for dual six-core Haswell or IVY Bridge CPUs, 192 GB of memory and the 14.4 TB capacity option.
Mornay van der Walt, vice president, EVO:RAIL Group, VMware, said VMware planned to make these additional options available later this year but moved them up at its partners' request. Some partners have already started using their own configurations. For example, EMC's Vspex Blue EVO: RAIL product launched in February with 126 GB and 192 GB memory options.
"As customers are finding their own swim lanes, we're getting demand for more configuration options," van der Walt said. "This was on our roadmap, but given the demand we said, 'Let's roll this forward.'"
VMware has yet to make VSAN 6 – the latest version of VSAN – available to EVO:RAIL partners. EVO:RAIL appliances still run VSAN 1.5, with VSAN 6 expected to show up on them in the second half of 2015.
Van der Walt said VMware has sold more than 1,200 VSAN licenses since it launched in 2014.