News
Stay informed about the latest enterprise technology news and product updates.
Tintri adds entry-level all-flash, teases analytics
Virtual machine-storage specialist Tintri rounded out its all-flash product line today with an entry level version priced at $125,000 for 5.34 TB of raw capacity.

Download this free guide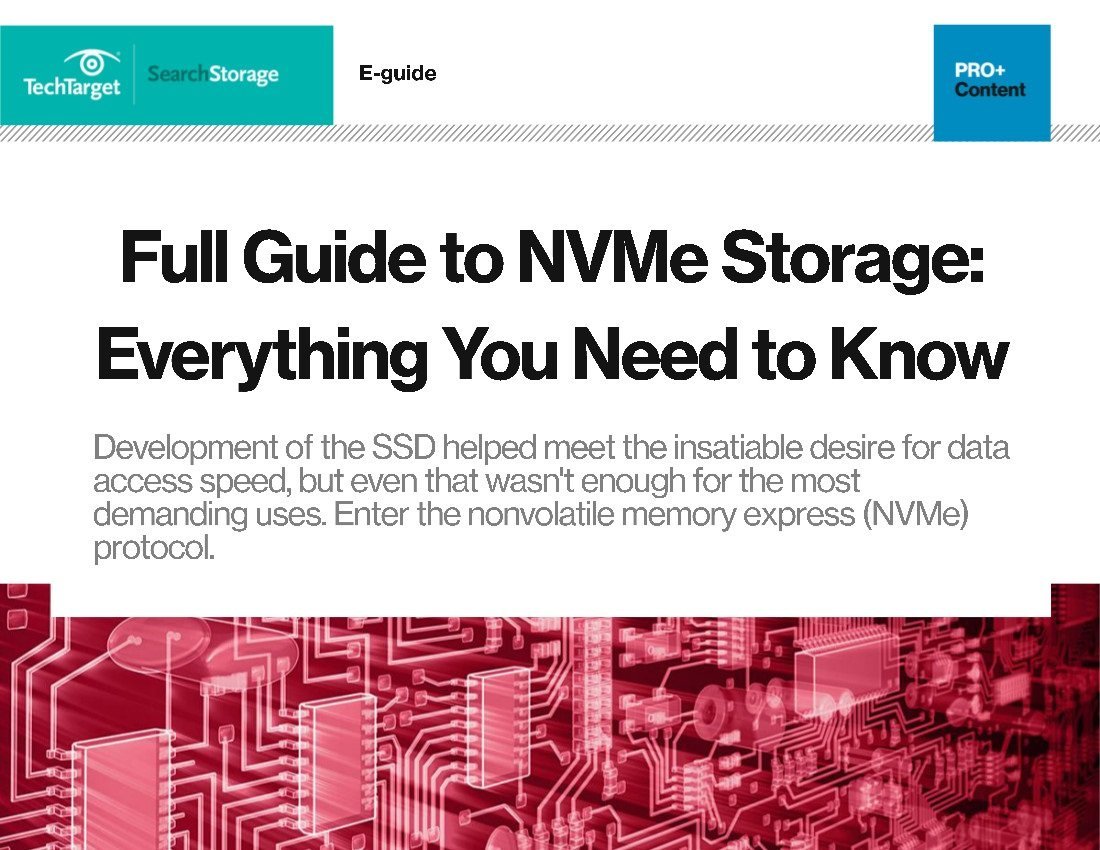 NVMe: The networked future for insatiable data access speeds
NVMe's no longer just a protocol for fast flash drive connections to a PC via the PCI Express bus. Discover the future of NVMe usage here, including exclusive details on how the M.2 SSD form factor is approaching server-ready capacity and speed.
By submitting your personal information, you agree that TechTarget and its partners may contact you regarding relevant content, products and special offers.
You also agree that your personal information may be transferred and processed in the United States, and that you have read and agree to the Terms of Use and the Privacy Policy.
The VMstore T5040 is the third model in the T5000 series launched in August. The T5000 series now matches Tintri's flagship T800 hybrid platform with three versions, each tuned for a certain number of virtual machines.
The three T5000 models use the same dual-controller 2u box, each with 24 solid-state drives. The difference is in the capacity of the SSDs. The T5040 uses 240 TB SSDs and is rated for up to 1,500 VMs. The T5060 holds 480 TB SSDs for 11.5 TB of raw capacity and 2,500 VMs, and the T45080 uses 960 TB SSDs for 23 TB of capacity and 5,000 VMs. All T5000 systems ship fully populated with 24 SSDs.
"We had designed all three from the start, but wanted to test our customer base and see if there was demand for something lower than the 5060," said Chuck Dubuque, Tintri senior director of product marketing. "A lot of our customer needs are still provided by hybrid systems, but we did have requirements for 100 percent flash for certain workloads."
Dubuque said Tintri expected about 10% to 20% of its new systems sold would be all-flash when it launched the T5000, and that forecast has been accurate. He said he expects most all-flash arrays to go to T800 customers who want better performance for workloads that prove difficult to virtualize.
Tintri on Thursday will preview a new version of Tintri Analytics in an online presentation.
Dubuque said new predictive analytics features expected in 2016 will build on Tintri's current real-time monitoring and troubleshooting. The new analytics will predict problems and the results of changes to applications. Tintri analytics are done at the VM-level.
"We have this rich data set from every single VM in terms of metadata about performance, size, how much flash it is utilizing on hybrid arrays, the name of the VM, which hypervisor it's on," he said. "Customers will be able to use that to predict future growth requirements much more accurately. We will use customers' historical VM level data to model workload growth needs. For example, it will show if a customer is running low on flash and might run out of flash performance before running out of physical capacity. This will tell you the best solution – whether you should buy another hybrid system, an all-flash system, and what you need to do to rebalance your system if your needs change."