News
Stay informed about the latest enterprise technology news and product updates.
SwiftStack brings in new CEO
Object storage vendor SwiftStack has a new CEO. The company today announced Don Jaworski is taking the helm as co-founder Joe Arnold relinquishes the role but remains president and chief product officer.

Download this free guide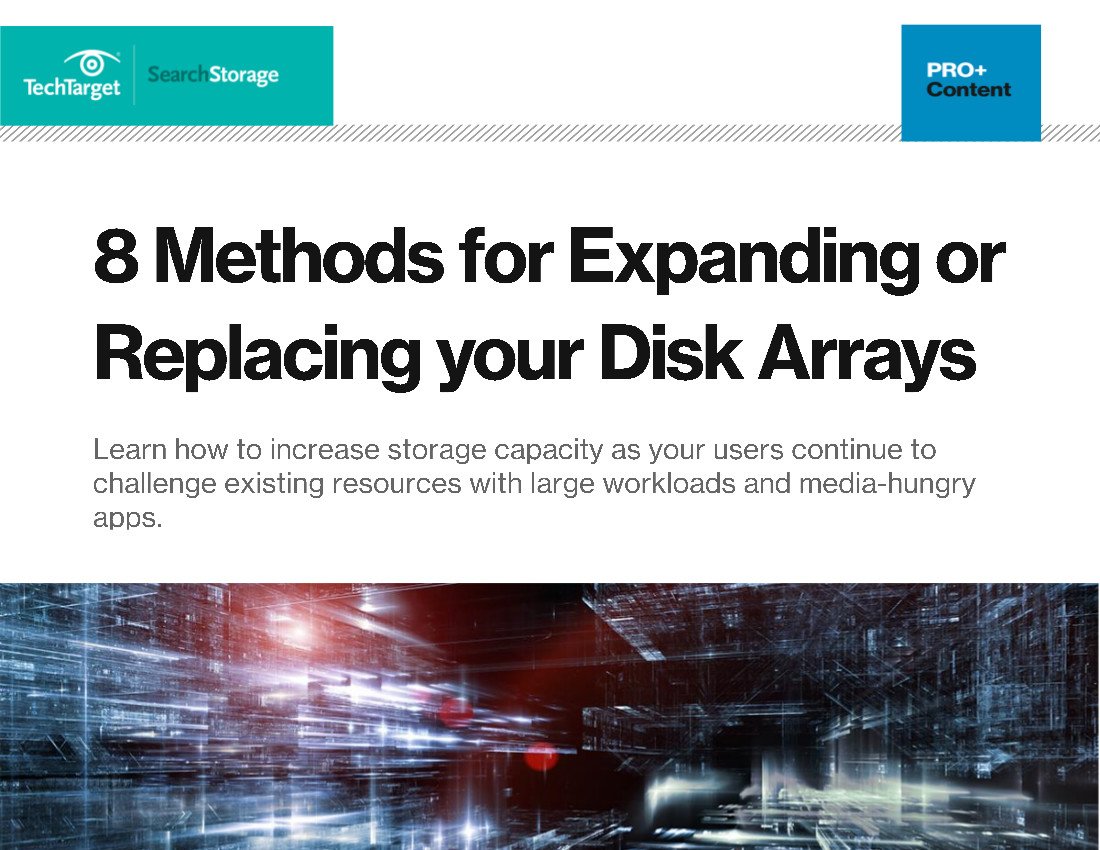 8 Steps to Expanding and Replacing Your Disk Arrays
Regardless of how high performing your storage array or how well you manage your data, every system comes to a breaking point. Whether it's long app loading times, or realizing after a disaster that your data isn't quite as available as you thought, when you reach that point, you'll need to be ready to expand or replace your existing disk array. In this guide, learn 8 things to take into consideration for when that time comes; it could be closer than you think.
By submitting your personal information, you agree that TechTarget and its partners may contact you regarding relevant content, products and special offers.
You also agree that your personal information may be transferred and processed in the United States, and that you have read and agree to the Terms of Use and the Privacy Policy.
Jaworski formerly held executive jobs at NetApp, Brocade, Engine Yard, BlueCoat (formerly CacheFlow.inc.), Nokia Internet Communications, Ipsilon Networks and Sun Microsystems, which was acquired by Oracle. SwiftStack offers an OpenStack-based object storage service based on the Swift object storage platform and software defined storage controller. It recently raised $16 million in a series B funding round, bringing its total investment to $23.6 million.
"Lots of people asked me, 'Why join SwiftStack?"' Jaworski said. "For me, it's pretty straight forward. SwiftStack is a unique product. We have a great set of investors and a great team that is focused and has a unique talent."
Jaworski said the company has "50 or greater" customers and a growing number of developers building applications based on its API.
"We will focus on engineering and sales," he said. "Finally, we will focus our investment in leveraging OpenStack Swift API. We have a large number of developers building applications against the API. "
Jaworski said that SwiftStack's customers include those who are experiencing rapid growth of data and want to "leverage deeper content" particularly with Web applications that go after mobile adoption. Customers also are focused on running IT as a service.
"They what to know how they can be more agile," Jaworski said. "More cost effective and how to move more quickly into being IT as a service."