News
Stay informed about the latest enterprise technology news and product updates.
StoneFly makes SSD iSCSI SANs a trend
It turns out Dell/EqualLogic isn't the only vendor with an all-iSCSI SAN system that supports solid state drives (SSDs).
StoneyFly actually beat Dell to its official announcement of the PS6000 today with its rollout of the Voyager, an active-active midrange IP SAN. Voyager is available with Intel X-25E SSDs, or SAS or SATA drives. It also includes a 10-Gigabit Ethernet option – something that is apparently still on the drawing board at Dell.

Download this free guide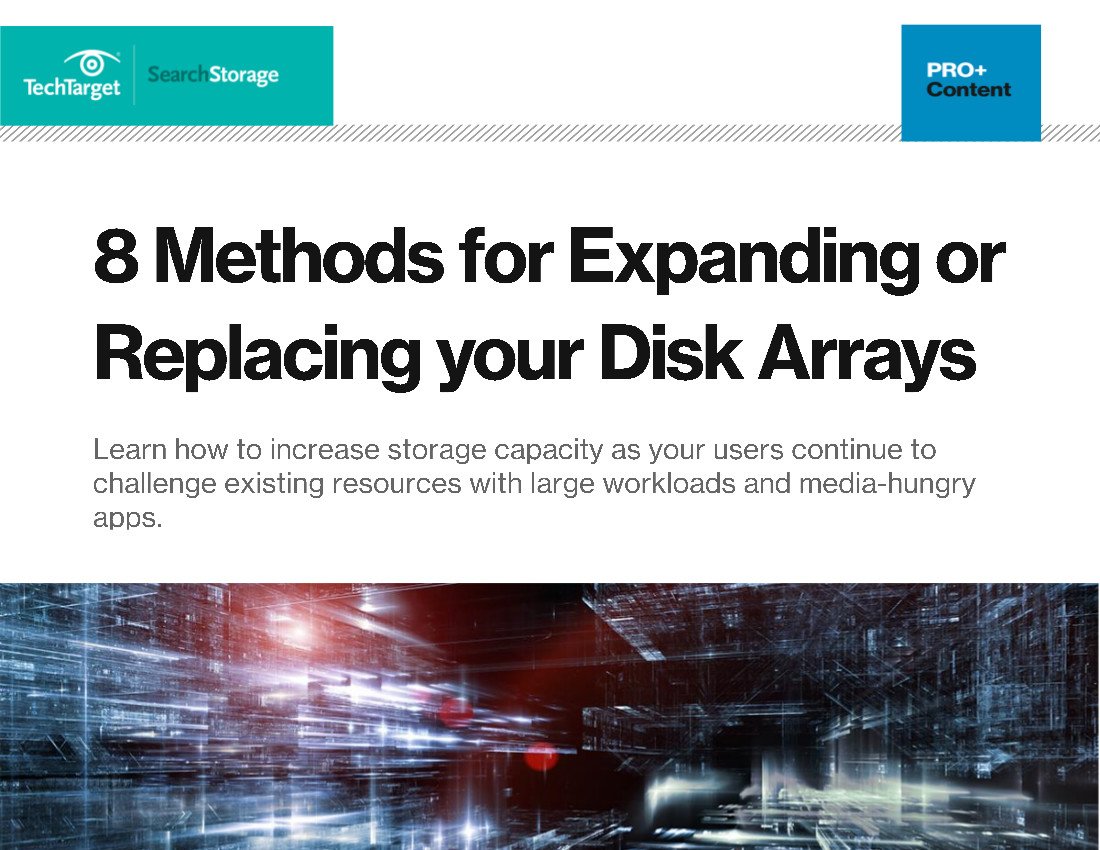 8 Steps to Expanding and Replacing Your Disk Arrays
Regardless of how high performing your storage array or how well you manage your data, every system comes to a breaking point. Whether it's long app loading times, or realizing after a disaster that your data isn't quite as available as you thought, when you reach that point, you'll need to be ready to expand or replace your existing disk array. In this guide, learn 8 things to take into consideration for when that time comes; it could be closer than you think.
By submitting your personal information, you agree that TechTarget and its partners may contact you regarding relevant content, products and special offers.
You also agree that your personal information may be transferred and processed in the United States, and that you have read and agree to the Terms of Use and the Privacy Policy.
It seems like just yesterday – or maybe this morning – that SSDs were considered something for super high performance tier 0 applications. Is anybody using iSCSI for that?
StoneFly product manager Jame Ervin says demand is high for SSD as well as 10-GigE.
"We have customers ready to go with SSD the minute it's available," she said. "They're looking for any performance benefit they can get."
As for 10-gigE, Ervin says it has the greatest appeal among service providers. "Those type of customers seem to have the most interest so far. They seem to be ahead of the game adopting new technologies," she said.
IDC research analyst Liz Conner doesn't expect SSD to be a large selling point for iSCSI before 2010, but with iSCSI use growing and budgets shrinking it's worth taking a look at now.
"I see it popping up more for Fibre Channel SANs, but it will happen with iSCSI," Conner said. "Most people will go with Fibre Channel for high performance, but with iSCSI offering more high-end features and the way the economy is now, it's more of an option."
Conner says 10-gigE is inevitable for iSCSI. "They can say, 'we've got it now, you won't have to upgrade later,'" she said of StoneFly's strategy.