News
Stay informed about the latest enterprise technology news and product updates.
Seagate puts Kinetic object storage plan in motion
If you need more proof that object storage is picking up steam, there is the Kinetic Open Storage Platform unveiled by Seagate this week.
If it flies, the architecture can provide a huge boost to object storage and cloud storage adoption.
There are two parts to the Kinetic architecture. One is high capacity hard drives with two Gigabit Ethernet ports replacing SAS pins used for SAS/SATA disk interfaces. The other piece is an open-source API supported by OpenStack Object Storage.

Download this free guide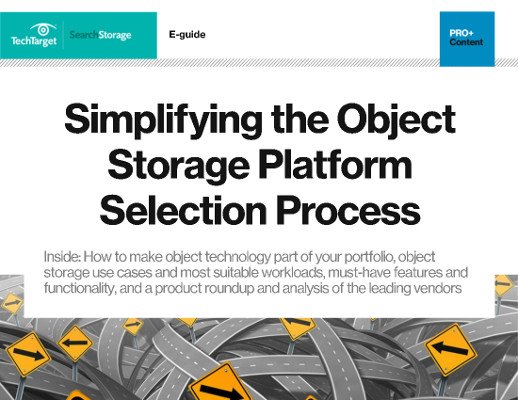 Scott Lowe simplifies the object-based storage selection process for you
Before investing in object storage, look to this guide to determine which system fulfills your workloads' needs. Inside, Scott Lowe, founder of the 1610 Group, does the heavy-lifting for you and evaluates the leading object systems' features, functionality, and vendors like Dell EMC, HDS, and Scality—all to simplify your selection process.
By submitting your personal information, you agree that TechTarget and its partners may contact you regarding relevant content, products and special offers.
You also agree that your personal information may be transferred and processed in the United States, and that you have read and agree to the Terms of Use and the Privacy Policy.
The API is a software library that uses a Key-Value interface where the key is the metadata and the value is the data itself. The API will communicate directly with the hard drive for object commands such as PUT and GET.
Seagate's goal is to eliminate the storage server tier and enable applications to speak directly to the storage device.
"The file system is gone. The drive does the space management," said Ali Fenn, senior director of Seagate's advanced storage platform. "Applications are dealing with objects, and we should let them deal with objects right down to the drive.
Seagate is trying to put together the wide industry support that will be necessary for this to catch on. Its release included supporting comments from Rackspace, Dell, Yahoo, Supermicro, SwiftStack, Xyratex, Newisys EVault, Basho, Huawei, and Hive Solutions. That's a start, but it will take a lot more support to make it work.
Seagate has made the software library and a simulator available to companies who want to write apps for Kinetic storage, and Fenn said 3.5-inch nearline drives supporting the architecture will be available in mid-2014.
If it takes hold, the Kinetic platform can wipe out a good piece of the existing storage stack. Then it will get interesting to see what else goes – traditional storage arrays maybe?
According to a report for the SSG-Now newsletter, SSG-Now analyst James Bagley wrote: "the Seagate announcement does not doom the manufacturers of conventional storage arrays. However, it does mean that object storage users, particularly in cloud deployments, will have a much more efficient means of getting data into and out of storage devices."