News
Stay informed about the latest enterprise technology news and product updates.
Scality and SGI combine commoditized hardware and object storage
Scality and Silicon Graphics Inc. (SGI) have signed an OEM deal that combines object storage software with high-performance commodity hardware. It provides a scale-out computing offering for organizations looking to build out systems that can store large amounts of unstructured data.

Download this free guide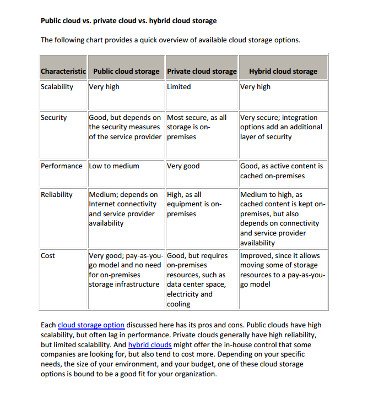 Cloud storage face-off: Public cloud vs. private cloud vs. hybrid cloud storage
Every cloud storage option has its pros and cons. Depending on your specific needs, the size of your environment, and your budget, it's essential to weigh all cloud and on-prem options. Download this comprehensive guide in which experts analyze and evaluate each cloud storage option available today so you can decide which cloud model – public, private, or hybrid – is right for you.
By submitting your personal information, you agree that TechTarget and its partners may contact you regarding relevant content, products and special offers.
You also agree that your personal information may be transferred and processed in the United States, and that you have read and agree to the Terms of Use and the Privacy Policy.
The deal includes the Scality Ring Organic software that resides on distributed, independent nodes and the SGI Modular InfiniteStorage Server (SGI MIS Server). The server delivers high density by packaging two motherboards together with up to 72 3.2 inch SAS or SATA drives in a single 4 U chassis. Twenty nodes in a 19 inch rack can hold 2.8 Petabytes.
"I think this move is symbolic because partners need each other pull together solutions," said Ashish Nadkarni, IDC's research director for storage systems. "SGI did not have native object storage. They (probably) had customers that said they needed object storage but SGI didn't have it. They would be losing out on this part of the market, so they looked to partner with a hardware vendor."
Floyd Christofferson, SGI's director of storage product marketing, said object storage is software-focused "but really software has to run on hardware."
Nadkarni said the SGI has expertise in high performance computing in large environments with massive storage systems. This gives Scality an opportunity to sell into SGI's existing customer base.
Scality Ring presents a unified data interface delivering local and remote object and file access. The configuration can offer geo-redundancy and auto-tiering.
"This is a ring architecture that is designed to be scalable. You can keep adding hardware and capacity without compromising performance," Nadkarni said.
There are other examples of the object storage ecosystem expanding. Cleversafe has formally announced a Solution Network partnership to boost sales of its object-based storage products. The partners include Symantec, CommVault, Cloudera, Riverbed, Cisco, VMware, Intel and Panzura.
"We are focused on a self-certification program that allows vendors to run tests [with Cleversafe software] to ensure the technology works with object storage," said Russ Kennedy, Cleversafe's vice president of product marketing.