News
Stay informed about the latest enterprise technology news and product updates.
Riverbed adds AWS and Azure support to its SteelFusion
Riverbed Technology this week announced its hyper-converged SteelFusion solution now supports both Amazon Web Services and Microsoft Azure so customers can leverage the cloud as a secondary storage tier.

Download this free guide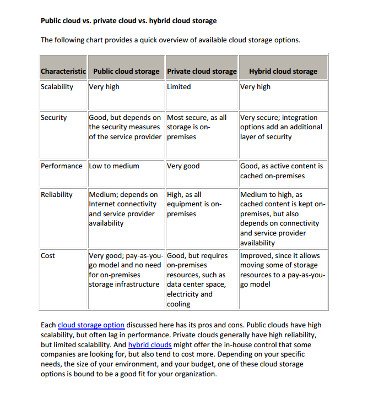 Cloud storage face-off: Public cloud vs. private cloud vs. hybrid cloud storage
Every cloud storage option has its pros and cons. Depending on your specific needs, the size of your environment, and your budget, it's essential to weigh all cloud and on-prem options. Download this comprehensive guide in which experts analyze and evaluate each cloud storage option available today so you can decide which cloud model – public, private, or hybrid – is right for you.
By submitting your personal information, you agree that TechTarget and its partners may contact you regarding relevant content, products and special offers.
You also agree that your personal information may be transferred and processed in the United States, and that you have read and agree to the Terms of Use and the Privacy Policy.
SteelFusion, a hyper-converged solution for branch and remote offices, supports Azure via Microsoft StorSimple and AWS through AWS Storage Gateway. SteelFusion is a two-part offering with infrastructure in both the data center and branch, which are virtual machines that mirrors data from the edge to the data center. Applications run on the edge device for better local performance.
"What we are doing is adding a new leg to our solution," said Saveen Pakala, Riverbed's senior director of product management. "We are adding a storage tier. Customers now have the flexibility of using traditional data center storage but they also have the option to go to the cloud. "
In April 2015, Riverbed expanded the capabilities of its SteelFusion branch office appliance, upgrading its Core and Edge models while adding FusionSync software for business continuity. SteelFusion is designed to consolidate storage, servers and backups at remote sites, removing the need for IT at those offices.
The upgrade came a year after Riverbed re-named its Granite product as SteelFusion. SteelFusion combines storage, WAN optimization and virtual machine management in a single appliance. Riverbed now labels SteelFusion "hyper-converged infrastructure for the branch office."
The addition of FusionSync keeps multiple data centers in sync with branch office data. If there is a data center failure, the branch office can continue to function. In November, Riverbed announced SteelFusion support for customers using VMware vSphere 6.
The upgraded SteelFusion Core and Edge models support larger branch offices and regional hubs than previous appliances. The SteelFusion Core is a single appliance that supports between 100 TB and 150 TB in branch locations. The new SteelFusion Edge system supports 256 GB of memory to handle larger workloads. Three of the Edge models support advanced tiering cache.