News
Stay informed about the latest enterprise technology news and product updates.
Quantum partners with Amplidata for object storage
Quantum will add object storage as a tier on top of its StorNext file system with the help of an OEM deal with startup Amplidata.
Quantum revealed the OEM deal Wednesday, and said it will have a new family of disk systems with the object storage later this year.
CEO Jon Gacek said Amplidata will eventually become part of Quantum's cloud architecture, but a "big data" appliance will be Quantum's first product using the technology. That product will incorporate object storage as a tier on a device running StorNext. Quantum is targeting petabyte-scale content and data analytics with the product.

Download this free guide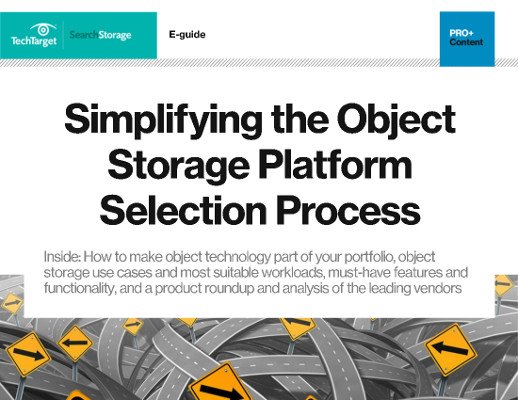 Scott Lowe simplifies the object-based storage selection process for you
Before investing in object storage, look to this guide to determine which system fulfills your workloads' needs. Inside, Scott Lowe, founder of the 1610 Group, does the heavy-lifting for you and evaluates the leading object systems' features, functionality, and vendors like Dell EMC, HDS, and Scality—all to simplify your selection process.
By submitting your personal information, you agree that TechTarget and its partners may contact you regarding relevant content, products and special offers.
You also agree that your personal information may be transferred and processed in the United States, and that you have read and agree to the Terms of Use and the Privacy Policy.
"The first incarnation will show up as a tier underneath StorNext," Gacek said. "Some customers will use it with tape, and some will use it to replace tape."
Gacek said Quantum looked at several object-storage vendors but picked Amplidata because of its performance and the way its BitSpread erasure coding algorithm disperses data to guarantee accessibility.
"Amplidata's performance is very strong," Gacek said. "More important to me is Amplidata's ability to do bit spreading to protect data and expand that to geospreading data, opposed to doing RAID and replication. That really lowers the cost of archiving."