News
Stay informed about the latest enterprise technology news and product updates.
NetApp still struggling with Clustered OnTap conversions
NetApp's latest earnings report told a familiar story.
NetApp Wednesday night said its revenue last quarter – although higher than expected – continued to decline with the vendor's most established products taking the biggest hits. Its newer flash, cloud and software-defined software products are on the upswing but not nearly enough to keep overall sales up.

Download this free guide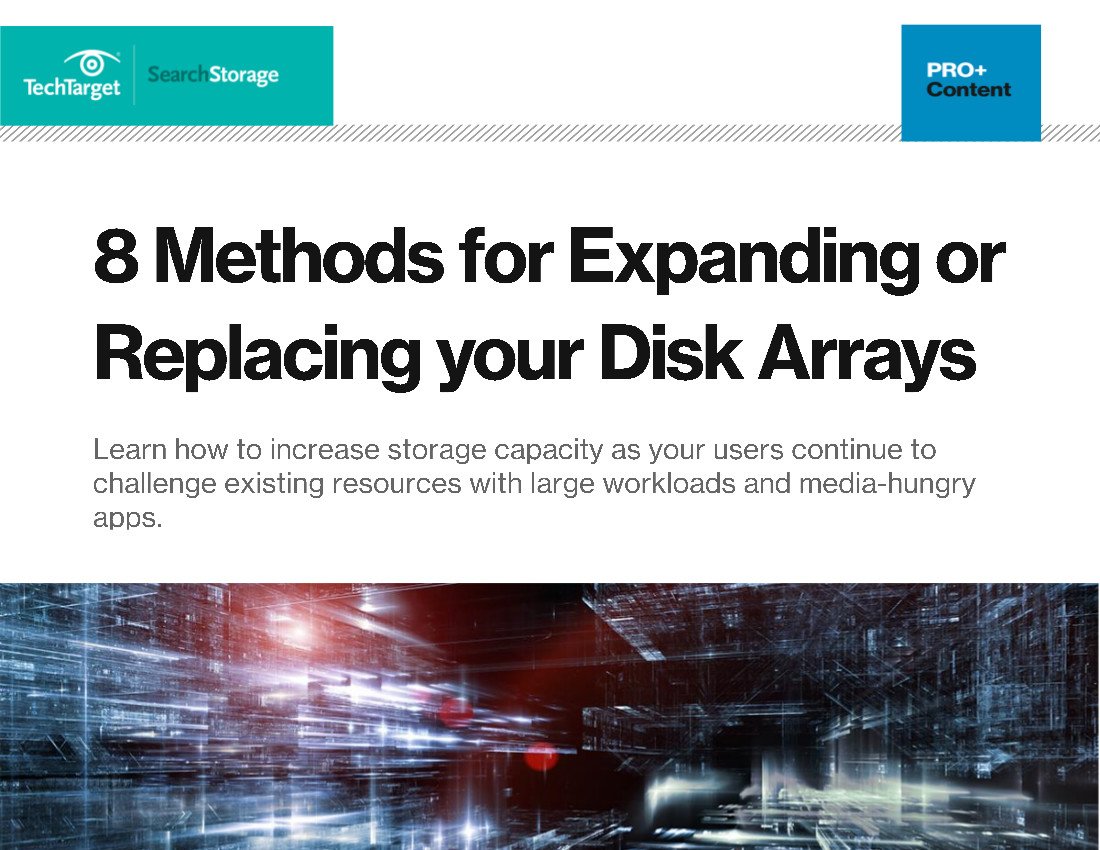 8 Steps to Expanding and Replacing Your Disk Arrays
Regardless of how high performing your storage array or how well you manage your data, every system comes to a breaking point. Whether it's long app loading times, or realizing after a disaster that your data isn't quite as available as you thought, when you reach that point, you'll need to be ready to expand or replace your existing disk array. In this guide, learn 8 things to take into consideration for when that time comes; it could be closer than you think.
By submitting your personal information, you agree that TechTarget and its partners may contact you regarding relevant content, products and special offers.
You also agree that your personal information may be transferred and processed in the United States, and that you have read and agree to the Terms of Use and the Privacy Policy.
These same trends have been hitting NetApp and other large storage vendors for more than a year, and led to EMC's getting swallowed whole by Dell. They contributed to NetApp switching CEOs from Tom Georgens to George Kurian in June without much change in result. And the trends will almost certainly continue for the foreseeable future.
NetApp's revenue of $1.45 billion last quarter declined 6.3 percent from last year, and product revenue fell 12% to $819 million. For this quarter, NetApp expects revenue of $1.4 billion and $1.5 billion, or roughly a seven percent decrease from last year.
"Parts of our business are working well, some parts need improvement and other parts we must manage through declines," Kurian said on the earnings call. "The IT spending environment continues to be constrained and the expectation for growth for the overall storage market has decreased to low single-digits."
The parts that are working well, he said, are scale-out, software-defined, flash, converged and hybrid cloud storage. Those areas are growing about 20% a year while the traditional standalone hybrid storage market declines approximately nine percent, he said.
For NetApp, that means its Clustered Data OnTap (CDOT) operating system, hybrid cloud software, and all-flash arrays are growing while its traditional FAS with Data OnTap 7-Mode and its OEM products decline.
Kurian said 7-Mode OnTap shipped on about 30% of NetApp FAS arrays last quarter, down from around 65% a year ago. CDOT was on nearly 70% of new FAS systems shipped in the quarter, up from 35% last year. CDOT systems grew 95% year-over-year while 7-Mode shipments declined 60%. Still, CDOT overall made up only 17% of NetApp's revenue compared to 15% in the previous quarter. That means 7-Mode customers are still not upgrading in large numbers.
NetApp's All-Flash FAS array unit shipments increased 445% year-over-year following a price cut, controller upgrade program and seven-year extended warranty in June.
Kurian said Dell's planned $67 billion acquisition of EMC is "clearly an opportunity" for NetApp because it will create confusion for customers and the channel. "The Dell-EMC transaction is yesterday's solution to tomorrow's customer problems," he said. "It does not fundamentally address the hybrid cloud, it does fundamentally address the data management opportunity that customers are forced to deal with. It is really about trying to build efficiency in an integrated hardware business rather than the software-defined data center of the future."
NetApp has $4.8 billion in cash, but Kurian didn't sound enthusiastic about making acquisitions to bolster its product portfolio. When asked if he would consider that, he said NetApp's strategy focused more on growing the emerging products it already has.