News
Stay informed about the latest enterprise technology news and product updates.
IDC backs up on appliance revenue drop
IDC Tuesday correccted the purpose-built backup appliance (PBBA) market tracker numbers it issued last week, giving market leader EMC more than $55 million in additional revenue for the second quarter.

Download this free guide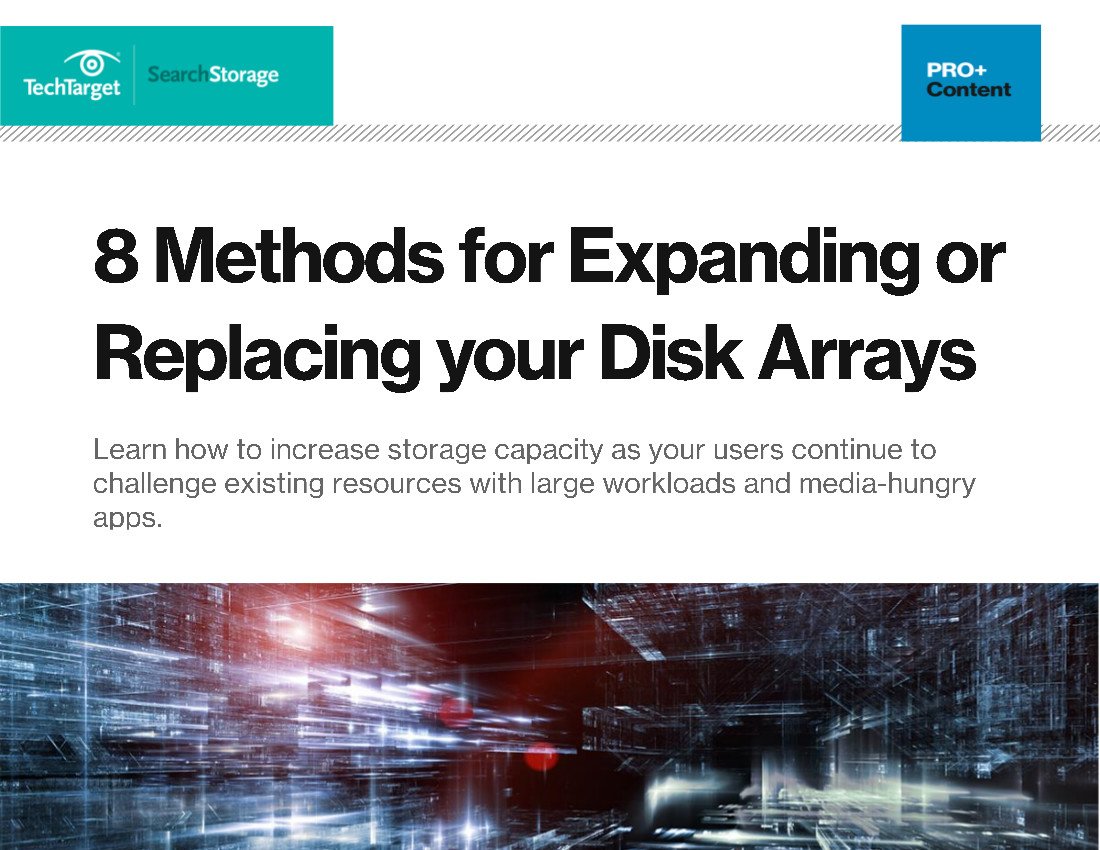 8 Steps to Expanding and Replacing Your Disk Arrays
Regardless of how high performing your storage array or how well you manage your data, every system comes to a breaking point. Whether it's long app loading times, or realizing after a disaster that your data isn't quite as available as you thought, when you reach that point, you'll need to be ready to expand or replace your existing disk array. In this guide, learn 8 things to take into consideration for when that time comes; it could be closer than you think.
By submitting your personal information, you agree that TechTarget and its partners may contact you regarding relevant content, products and special offers.
You also agree that your personal information may be transferred and processed in the United States, and that you have read and agree to the Terms of Use and the Privacy Policy.
The initial report showed steep declines for the market overall and EMC specifically. EMC apparently made a persuasive case that IDC under-reported its true backup appliance revenue, which consists mostly of Data Domain disk libraries. The new numbers show a less bleak picture for appliance sales, although they still declined slightly in the quarter.
The revised numbers give EMC $469.9 million compared to $414 million in the original report. The new total represents a 5.8 percent year-over-year drop for EMC and a 60.1 percent market share. The original numbers represented a 16.9 percent year-over-year drop and 57.1 percent share for EMC.
The revised numbers put total worldwide revenue at $781.1 million for last quarter, a one percent drop from last year instead of the eight percent decline from last week's report. IDC includes revenue from appliances that require separate backup software along with integrated appliances that bundle software with storage.
Even a modest fall indicates a reversal of recent trends. The PBBA market grew 6.9 percent year-over-year in the first quarter of 2015 and increased 4 percent for the full year in 2014 over 2013.
No. 2 Symantec's revenue fell 3.7 percent to $104.5 million last quarter, according to IDC. Barracuda Networks made the biggest revenue jump, growing 67.6 percent to $26.8 million and remained in fifth place with 3.4 percent share. That followed a 64.9 percent year-over-year jump in the first quarter for Barracuda following an aggressive rollout of backup appliances that support replication between appliances or to the Barracuda Cloud.
No. 3 IBM grew 0.8 percent to $54 million and No. 4 Hewlett-Packard increased 8.8 percent to $36.7 million. All other vendors combined to grow 13.4 percent to $89.6 million and 11.5 percent market share.
In the press release detailing the revenue report, IDC attributed the revenue drop to "market evolution."
"Focus continues to shift away from hardware-centric, on-premise PBBA systems to hybrid/gateway systems," said Liz Conner, IDC research manager for storage systems, in the press release. "The results are greater emphasis on backup and deduplication software, the ability to tier or push data to the cloud, and the increasing commoditization of hardware, all of which require market participants to adjust product portfolios accordingly."