News
Stay informed about the latest enterprise technology news and product updates.
HCI vendor Pivot3 reports more customers using more apps
Pivot3 more than doubled its revenue in the first half of 2016 over 2015, which its CEO attributes to customers buying its hyper-converged appliances as a platform rather than for single applications.

Download this free guide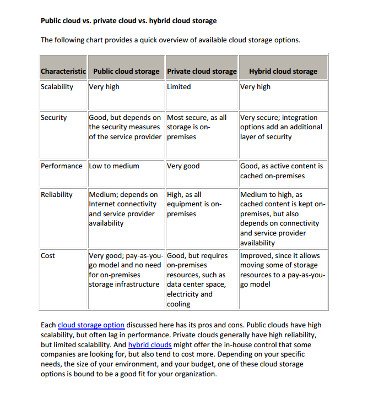 Cloud storage face-off: Public cloud vs. private cloud vs. hybrid cloud storage
Every cloud storage option has its pros and cons. Depending on your specific needs, the size of your environment, and your budget, it's essential to weigh all cloud and on-prem options. Download this comprehensive guide in which experts analyze and evaluate each cloud storage option available today so you can decide which cloud model – public, private, or hybrid – is right for you.
By submitting your personal information, you agree that TechTarget and its partners may contact you regarding relevant content, products and special offers.
You also agree that your personal information may be transferred and processed in the United States, and that you have read and agree to the Terms of Use and the Privacy Policy.
Pivot3 CEO Ron Nash said Pivot3's revenue increased by 103% over the past six month as it added more than 400 customers. That includes customers Pivot3 added through technology it acquired when it merged with flash storage vendor NexGen Storage in January. But Nash said revenue from NexGen made up less than 10% of Pivot3's revenue in the quarter. The bulk of the growth came from customers expanding their hyper-converged workload. Nash said until the last six months or so, almost every Pivot3 system was used for a single application. But customers are now adding other apps to their hyper-converged appliance and new customers are buying hyper-converged for more than one app from the start.
"Once customers start using it, they say 'This platform stays up, it's easy to operate and has a small footprint,' and then they start loading more applications on it," Nash said. "That's the big change we're seeing. Enough people have tried hyper-converged for a single app, and are now starting to buy it as a platform."
He said 28% of Pivot3's new sales in the first half of 2016 were for multiple applications from the start. The average spend of customers with multiple use cases is more than 500 % higher than customers with a single data center application use case. He pointed to a customer in the public transit industry with 6PB of data on 250 nodes.
The most common applications Pivot3 customers run are virtual desktops, backup, video surveillance and databases. Nash said the integration of NexGen's quality of service with Pivot3's hyper-converged appliances should prove particularly useful for multiple applications.
Despite the spike in sales, Nash said Pivot3 still rarely competes head-to-head with other hyper-converged products. He said three-quarters of Pivot3's deals are against traditional server and storage products. The two best known hyper-converged products – Nutanix's NX appliances and VMware Virtual SAN (VSAN) software — don't show up in many competitive deals but do have an impact on Pivot3 by creating market awareness.
"Nutanix is out there spending tons of money educating market on hyper-converged infrastructure, which is fantastic for us," Nash said. "I hope they keep advertising."
As for VMware, Nash said he suspects it has a lot more VSAN customers than actual sales. "VMware doesn't quote revenue, they quote customer numbers," he said. "That's what you say when you're giving it away."
Pivot3 also added Bill Stover as chief financial officer. Stover spent 18 years at Micron Technology, serving as vice president of finance and CFO of the public company. Nash said Stover's background with a public company will help Pivot3 — still a private firm – grow into a more mature company.