News
Stay informed about the latest enterprise technology news and product updates.
Gridstore to CEO: Great job, now get lost
Gridstore apparently grew so fast under CEO George Symons that its board decided to change CEOs to keep up with the rapid growth.
Gridstore founder and CTO Kelly Murphy has moved back into the CEO role on an interim basis until the hyper-converged vendor finds a replacement for Symons.

Download this free guide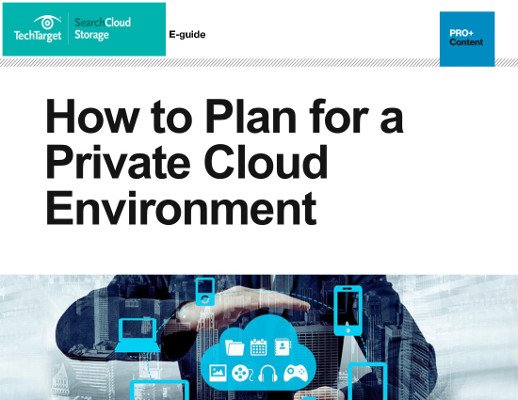 Planning is Paramount for a Private Cloud Environment
Are you getting ready for the move to a cloud environment? Or maybe you're still trying to figure out which is better for your business, to go private or adopt a public cloud? Either way this handbook is for you. Inside you'll find out why a private cloud is the way to go, as well as tactics and strategies on how to get you there. From VM deployment platform options, to what you can expect from DRaaS services, you'll find it all inside.
By submitting your personal information, you agree that TechTarget and its partners may contact you regarding relevant content, products and special offers.
You also agree that your personal information may be transferred and processed in the United States, and that you have read and agree to the Terms of Use and the Privacy Policy.
"Gridstore closed out a record year in 2015 in both revenue and customer acquisition and launched 2016 with a new round of investment," Gridstore VP of corporate communications Douglas Gruehl said in an e-mail statement. "In order to manage the companies' hyper growth, the board has decided that a new CEO with experience in managing a fast growing company is needed. A search for a new CEO is underway.
"With the new investment Gridstore is expanding rapidly, adding to sales, support, and R&D worldwide; it is truly an exciting time for us."
When Gridstore closed its $19 million funding round in January, Symons said he was looking forward to growing the business and doubling its headcount, particularly in sales and marketing. But that funding round brought other changes that may have spelled the end for Symons. Gridstore replaced chairman Geoff Barrell with Nariman Teymourian, who ran Hewlett Packard Enterprise's Converged Systems Division of HPE. Kevin Dillon of Atlantic Bridge Capital, which led the funding round, also joined the board.
Gridistore got a head start on rebuilding its executive team at the same time bringing in Dell veterans James Thomason (chief strategy officer) and Kevin Rains (chief financial officer) and a VP of sales, Phil Lavery, who also came from Atlantic Bridge.
Symons became Gridstore CEO in 2013, after stints as a CEO at Yosemite Technologies and Evostor, CTO at EMC, COO at Xiotech and chief strategy officer at Nexsan. He transformed Gridstore from a company that sold storage appliances for Microsoft Hyper-V to an all-flash hyper-converged vendor, still focused on Microsoft. In January, Symons said Gridstore revenue grew 343% year-over-year in 2015. "It surprised me how quickly it happened," he said at the time.
So quickly that his board felt he couldn't keep up.