News
Stay informed about the latest enterprise technology news and product updates.
Gluster combines object and file storage
Object storage has been hailed as a better way to store files than traditional NAS, and perhaps even a long-term replacement for file storage. Now open-source software vendor Gluster has integrated object and NAS capabilities in the same file system.

Download this free guide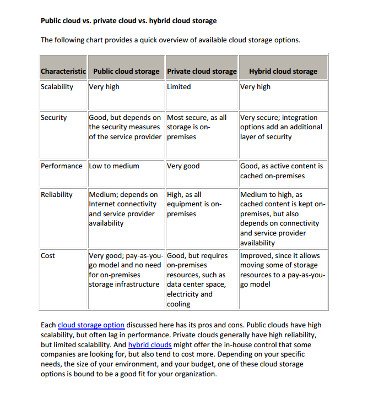 Cloud storage face-off: Public cloud vs. private cloud vs. hybrid cloud storage
Every cloud storage option has its pros and cons. Depending on your specific needs, the size of your environment, and your budget, it's essential to weigh all cloud and on-prem options. Download this comprehensive guide in which experts analyze and evaluate each cloud storage option available today so you can decide which cloud model – public, private, or hybrid – is right for you.
By submitting your personal information, you agree that TechTarget and its partners may contact you regarding relevant content, products and special offers.
You also agree that your personal information may be transferred and processed in the United States, and that you have read and agree to the Terms of Use and the Privacy Policy.
The GlusterFS 3.3 beta that became available this week lets users store and access the same data as an object and a file. They can store objects and then access those objects as files, or view and access files as objects. The idea is to make it easier to migrate file-based applications to object storage so they can be used in the cloud.
GlusterFS is an open source file system that scales to petabytes with global namespace. Version 3.3 has an object interface integrated into that file system.
"Probably 95 percent of enterprise applications haven't been able to leverage object storage and move to the cloud," Gluster director of product marketing Tom Trainer said. "Integrating it in one system will accelerate the integration to object storage.
Gluster customers can access data as objects from any Amazon S3 compatible interface and access files from its NFS and CIFS interfaces. Trainer said service providers can use GlusterFS to build Amazon-like storage for customers. It can also be used to migrate legacy applications to the cloud and scale NAS across the Internet to a public cloud.
There have been other approaches to integrating object and file storage, although Trainer maintains that GlusterFS has the deepest integration of object and file interfaces.
Most object storage products such as EMC Atmos, Scality, OpenStack and Amazon S3 don't have file systems. Caringo, which began as object storage, added an NFS and CIFS interface for its object store and Nirvanix's CloudNAS makes its object storage look like NAS to an application.