News
Stay informed about the latest enterprise technology news and product updates.
EMC charges HP with duplicitous dedupe claims
EMC's backup and recovery team says Hewlett-Packard is playing games with its numbers in claiming its B6200 backup system with StoreOnce Cataylst software is significantly faster than EMC Data Domain arrays with DD Boost.

Download this free guide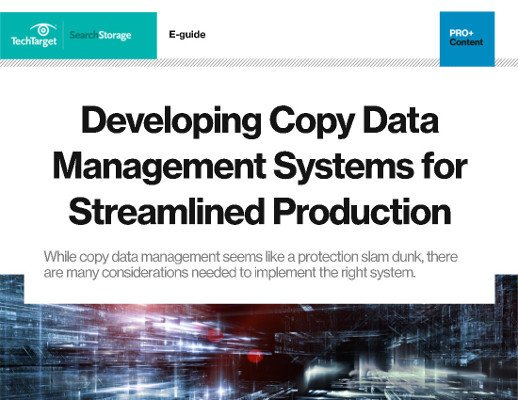 Copy management: Flexible framework amid solution fluctuations
While the honeymoon for standalone CDM appliances isn't over, many vendors also offer built-in CDM functionality. Download our guide for an examination of the CDM market, which vendors to keep your eye on (i.e. Actifio, Commvault, Catalogic, etc.), and a framework for establishing lasting copy management—no matter how the solutions for doing so fluctuate.
By submitting your personal information, you agree that TechTarget and its partners may contact you regarding relevant content, products and special offers.
You also agree that your personal information may be transferred and processed in the United States, and that you have read and agree to the Terms of Use and the Privacy Policy.
HP said its StoreOnce B6200 disk target with Cataylst can ingest data at 100 TB per hour with the maximum of four two-node pairs, compared to EMC's claim of 31 TB/hour with its new Data Domain DD990 with DD Boost. However, the B6200's nodes are siloed. That means an eight-node system actually consists of four separate pools, and it would take an aggregate performance to get to 100 TB/hour.
In an email, an EMC backup/recovery spokesman pointed out the DD990 would achieve 620 TB/per hour if measured the same way that HP measures performance. EMC's 31 TB/hour claim is for a single storage pool but 20 pools can be managed from one Data Domain Enterprise Manager console.
According to EMC's e-mail, "As lofty as they sometimes seem, we do make a concerted effort to keep our performance claims reasonable and defensible. This announcement by HP was, by contrast, very much a smoke and mirrors effort."
The truth is that all vendor performance claims – including benchmarks – should be taken with a grain of salt because they are achieved in optimal conditions, often with hardware configurations that would bring the price up considerably. A smart backup admin knows that performance will vary, and these vendor claims need to be verified in real-world tests.