News
Stay informed about the latest enterprise technology news and product updates.
EMC adds weight to ScaleIO
Private and hybrid cloud storage is a big piece of EMC's strategy, and this week the vendor upgraded one of the key building blocks for that strategy with the release of ScaleIO 2.0.

Download this free guide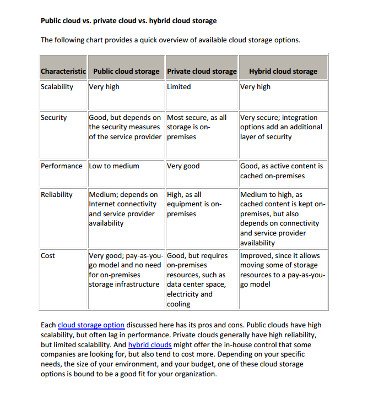 Cloud storage face-off: Public cloud vs. private cloud vs. hybrid cloud storage
Every cloud storage option has its pros and cons. Depending on your specific needs, the size of your environment, and your budget, it's essential to weigh all cloud and on-prem options. Download this comprehensive guide in which experts analyze and evaluate each cloud storage option available today so you can decide which cloud model – public, private, or hybrid – is right for you.
By submitting your personal information, you agree that TechTarget and its partners may contact you regarding relevant content, products and special offers.
You also agree that your personal information may be transferred and processed in the United States, and that you have read and agree to the Terms of Use and the Privacy Policy.
ScaleIO is block storage that can run on commodity hardware, although EMC began packaging it on hardware nodes in late 2015. It is designed to add enterprise storage features to direct attached storage, allowing for easy upgrades. The software has multi-tenant support for building cloud storage.
David Noy, EMC's VP of product management for emerging technologies. said ScaleIO is gaining traction with three kinds of customers: service providers building out public clouds to compete with Amazon, large enterprises building private clouds with Amazon-like features and large financial services firms looking to build block storage systems on commodity hardware.
"The appeal of ScaleIO is the ability to plop in a commodity server with some drives to add capacity to your block storage," Noy said.
Features added in ScaleIO 2 are designed to take advantage of the hardware nodes that EMC sells it on, as well as fit the types of customers using it the most.
They include security enhancements such as IPv6 support, Secure Socket Layer (SSL) connections between components and the ability to integrate it with Active Directory and LDAP. It also added in-flight checksum read flash capabilities, phone-home support and a maintenance mode that mirrors I/O coming in during maintenance, copies that I/O to another temporary location and moves the data back when the node returns online.
EMC also expanded ScaleIO support for next-generation applications such as containers, CoreOS and OpenStack.
For companies who don't want ScaleIO shipped on a hardware node, it's also available on a trial basis as a free download.