News
Stay informed about the latest enterprise technology news and product updates.
Data dedupe dance cards filling up
IBM's acquisition of Diligent Technologies today will alter several relationships of major vendors as they look to add data deduplication to their VTLs.

Download this free guide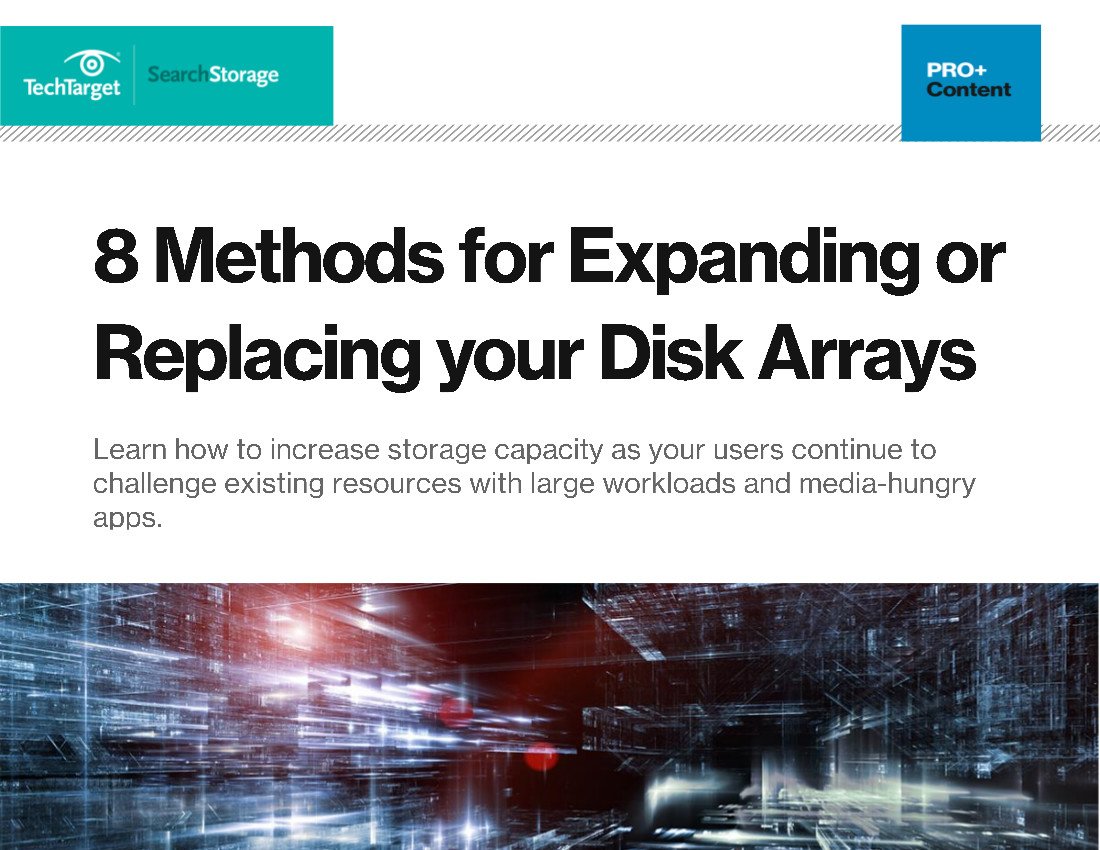 8 Steps to Expanding and Replacing Your Disk Arrays
Regardless of how high performing your storage array or how well you manage your data, every system comes to a breaking point. Whether it's long app loading times, or realizing after a disaster that your data isn't quite as available as you thought, when you reach that point, you'll need to be ready to expand or replace your existing disk array. In this guide, learn 8 things to take into consideration for when that time comes; it could be closer than you think.
By submitting your personal information, you agree that TechTarget and its partners may contact you regarding relevant content, products and special offers.
You also agree that your personal information may be transferred and processed in the United States, and that you have read and agree to the Terms of Use and the Privacy Policy.
Until now, IBM's VTL partner was FalconStor while Diligent supplies Hitachi Data Systems and Overland Storage. IBM and HDS say they're still ommitted to HDS selling Diligent's ProtecTier software even though it's now owned by IBM.
"We don't' see any change with Diligent, the agreements we've had with them will continue," HDS CTO Hu Yoshida said today. He compared the situation to EMC buying VMware. "VMware works well for us, we drive a lot of business from VMware," he said. "This is a new world, we're in an era of coopetition."
Still, you don't have to squint hard when reading the statement HDS issued today to see plenty of wiggle room:
The ProtecTIER software from Diligent Technologies offers very tailored data de-duplication technology that addresses only a fraction of the overall business continuity and disaster recovery capabilities that our customers require. This product comprises a single component of the broader portfolio of market-leading back-up and data protection solutions that Hitachi Data Systems offers its customers.
In other words, HDS is saying it could get by fine without ProtectTier. Where else can HDS go if it wants to switch? FalconStor is certainly available now that IBM has Diligent and EMC is partnered with Quantum for dedupe. Sun and Copan sell FalconStor data dedupe software, but Sun and Copan don't exactly equate to EMC and IBM for disk backup market share. There's also Sepaton, which has a VTL OEM deal with Hewlett-Packard — although HP has yet to offer Sepaton's dedupe software.
One dedupe vendor not looking for an OEM partner is Data Domain, which rode deduplication backup products from stealth to IPO in four years and is generally considered the dedupe market leader. Data Domain CEO Frank Slootman says his channel partners wouldn't appreciate competition from OEMs.
"That's a decision you have to make early on as a company," Slootman said. "If you start off as a channel company like we are, it's difficult to run an OEM model right alongside it because they are incompatible. OEM usually means death to your channel."